Webinars are one of the most effective ways for businesses to connect with audiences. However, not all webinars are the same. Evergreen webinars are a special type of webinar. They are pre-recorded and available anytime. Unlike traditional live-streamed webinars, you can access evergreen webinars on demand instantly.
Looking for the best evergreen webinar software? We've got you covered.
For this guide, we've researched the best evergreen webinar software for you. No jargon, just clear recommendations. We've sifted through the options and outlined easy-to-follow criteria. Along with this, we pinpointed the top choice for maximizing your content's impact.
We'll start by outlining what features you should be looking for and will then dive into the top options.
What Should You Look for When Choosing Evergreen Webinar Software?
1. Customizability
We decorate our houses to make them feel like a home and to reflect our unique personalities. The same is true for webinars. Your webinar shouldn't look like everyone else's. And you don't want it to feel cold and corporate either. Being able to customize the look and feel of your evergreen webinar is important. From the registration page to the post-webinar recap email - all of it should be customizable to match your brand's unique identity.
2. Ease of Use
The software should have an intuitive interface that makes it easy for both hosts and attendees to navigate. Complicated interfaces can lead to frustration and impact the overall user experience.
3. Analytics
Analytics show you what your audience loves. They provide valuable data on attendee behavior and help you understand what resonates. By connecting that data with other marketing tools you'll be able to customize future marketing tactics even more.
4. Affordability
Affordability means getting the most value for your investment. It's about finding the sweet spot where quality meets budget. Clear prices let you choose what you need without surprises.
5. Technical Support
Technical support is your safety net. It's there to make sure everything works as it should. Having responsive customer support is important to make sure that technical hiccups are resolved. They should also be invested in helping you maximize the software's potential and ensuring the success of your webinars.
Now that you know what to look for when choosing evergreen webinar software, we'll dive right into our recommendations.
The Best Evergreen Webinar Software
1. Contrast - best overall experience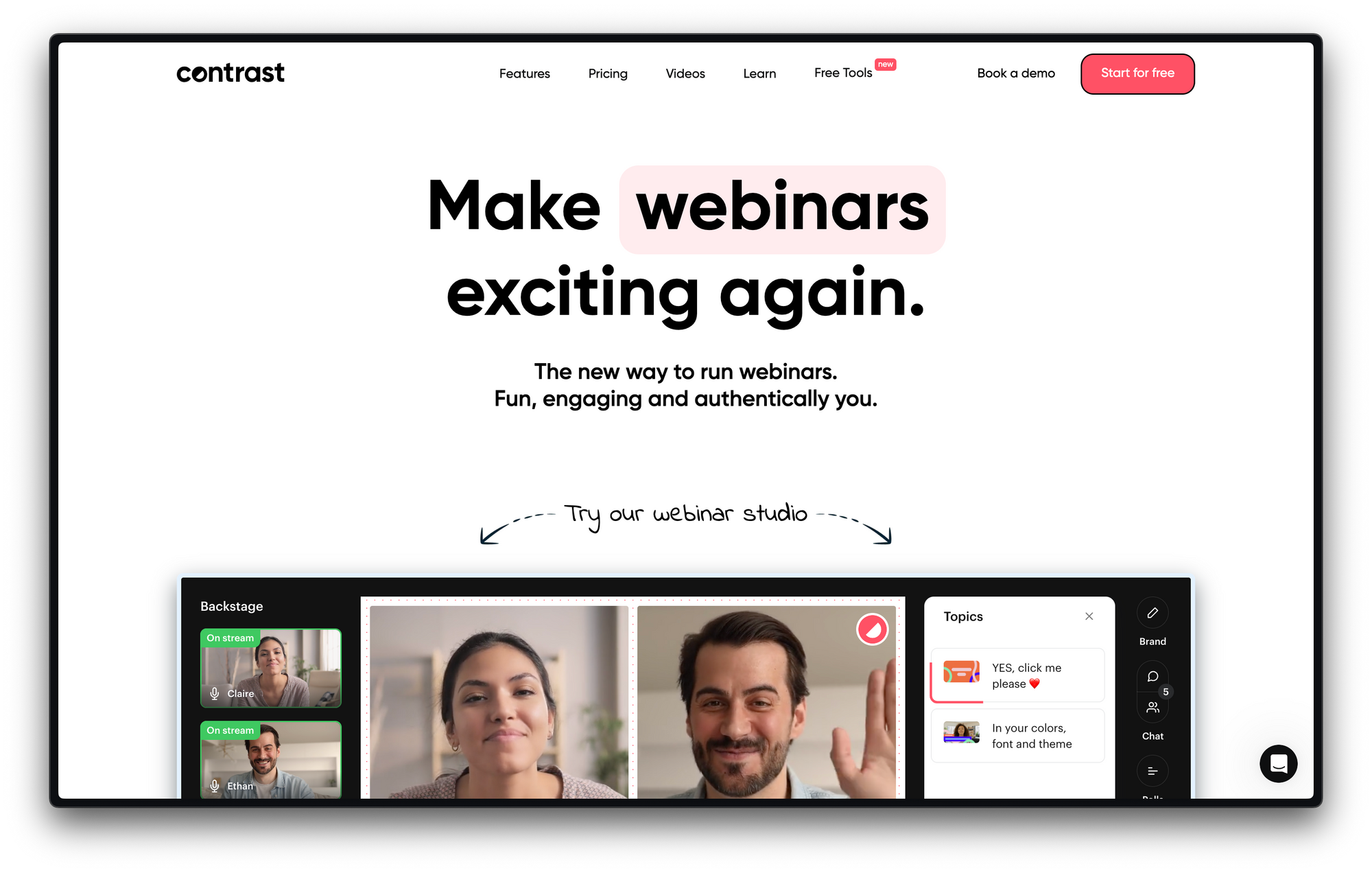 We built Contrast to make webinars more engaging. We also wanted them to be easy to run so that you can set up a webinar in minutes. Simple-to-use doesn't mean sacrificing features though. We've packed it with all of the features you'd expect in webinar software and let you customize every aspect of your webinar. It's free to use and meets all the criteria listed above.
Here is why Contrast is the best evergreen webinar software:
1) Ease of use
Contrast prides itself on its intuitive interface and user-friendly design. Whether you're a beginner or an experienced webinar host. The platform's straightforward setup process helps to create a webinar easily without a hassle. Contrast ensures a seamless webinar experience, empowering hosts to focus on engaging content and interactions while the platform handles the technical complexities effortlessly.
2) Analytics and insights
Some webinar platforms don't provide analytics in their free plans - if they even have one to begin with! Our free webinar analytics provide detailed insights about audience engagement. You can dive into specific moments to learn what works and what doesn't in your webinars.
3) Customization
Contrast also allows you to customize every aspect of your live and pre-recorded webinar. We provide ready-made templates to make it easy to get started, you can customize everything you need, from the registration page to post-event follow-up emails. Everything is customizable.
4) Technical support
Unlike other platforms, we provide real human support to all of our customers - even those on the free plan. Our staff is dedicated to replying to you "in under 15 minutes and 24/7".
You can get all the features mentioned above and more in our free plan as well. If you're ready to start hosting evergreen webinars, you can sign up for our free account now.
Leading startups like Vainu, Pennylane, and Getaround all trust Contrast to host their webinars. Here's what they had to say: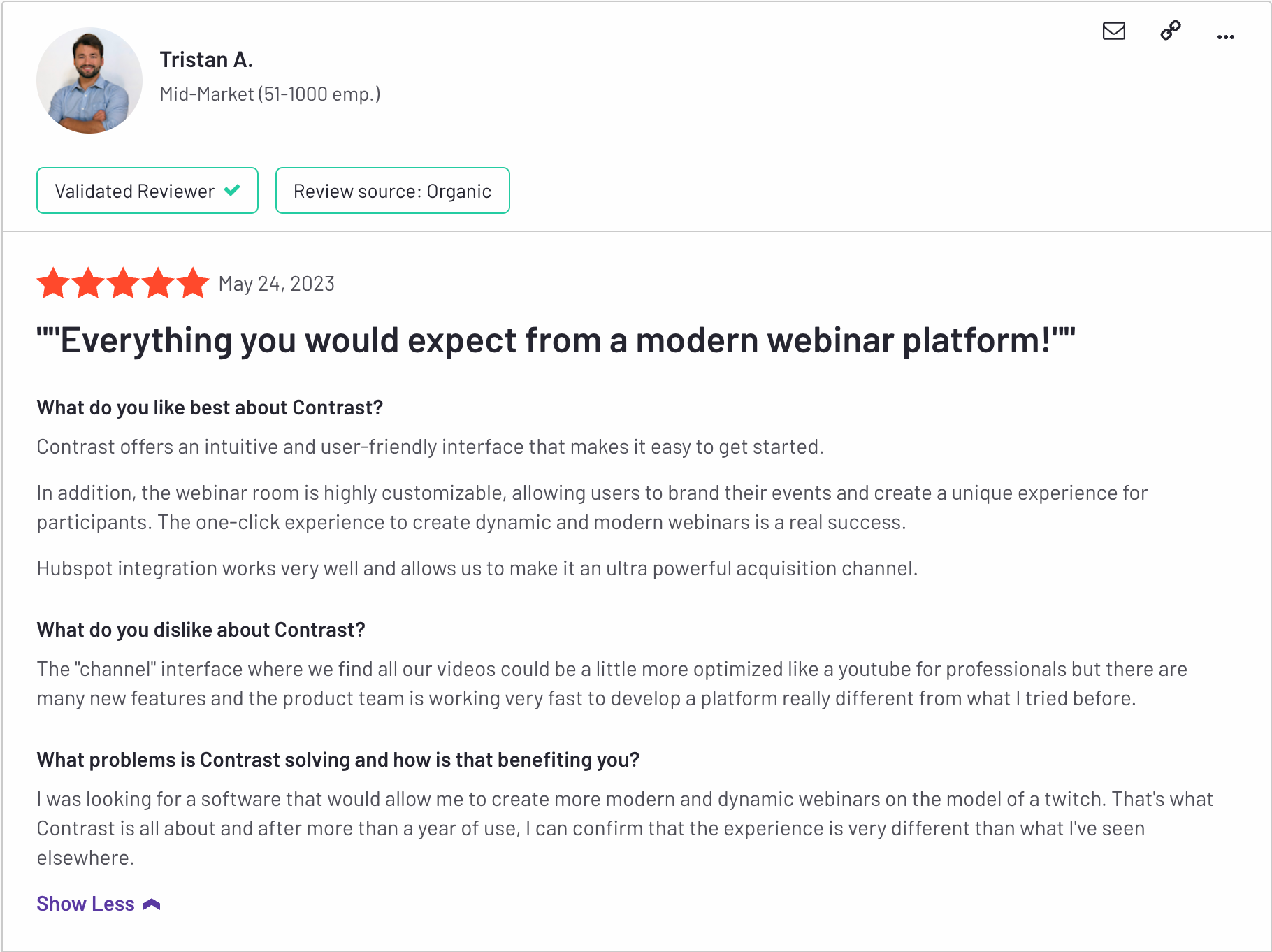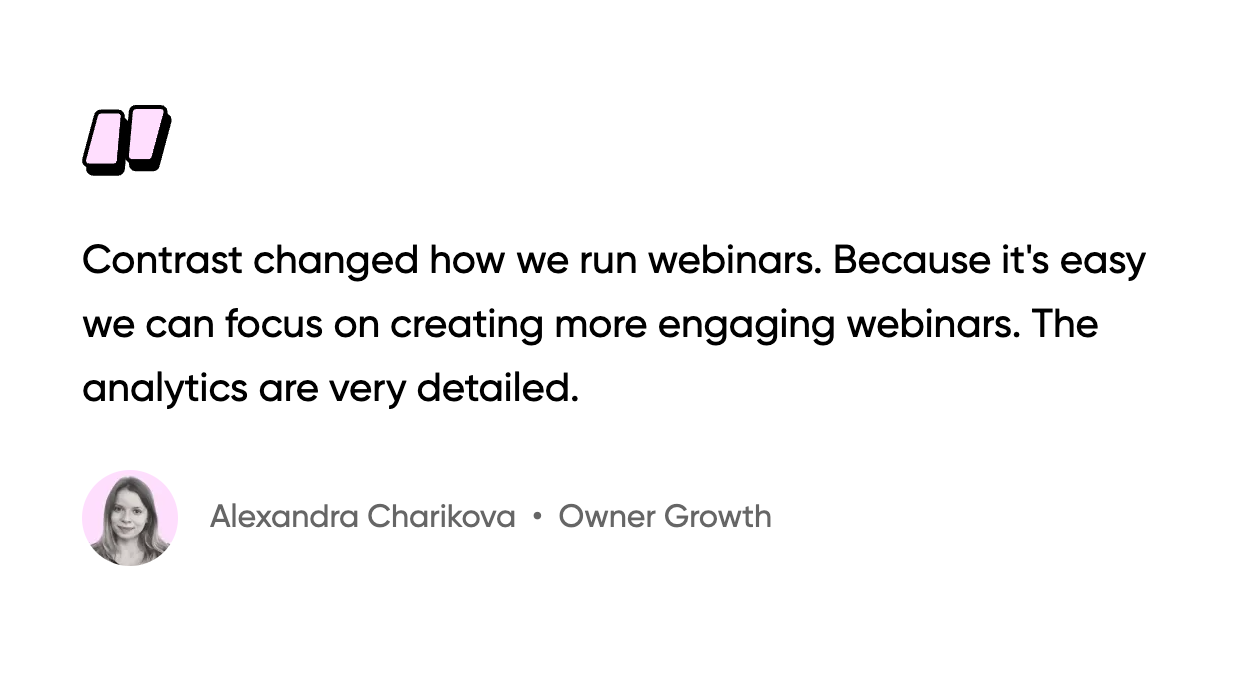 2. Easy Webinar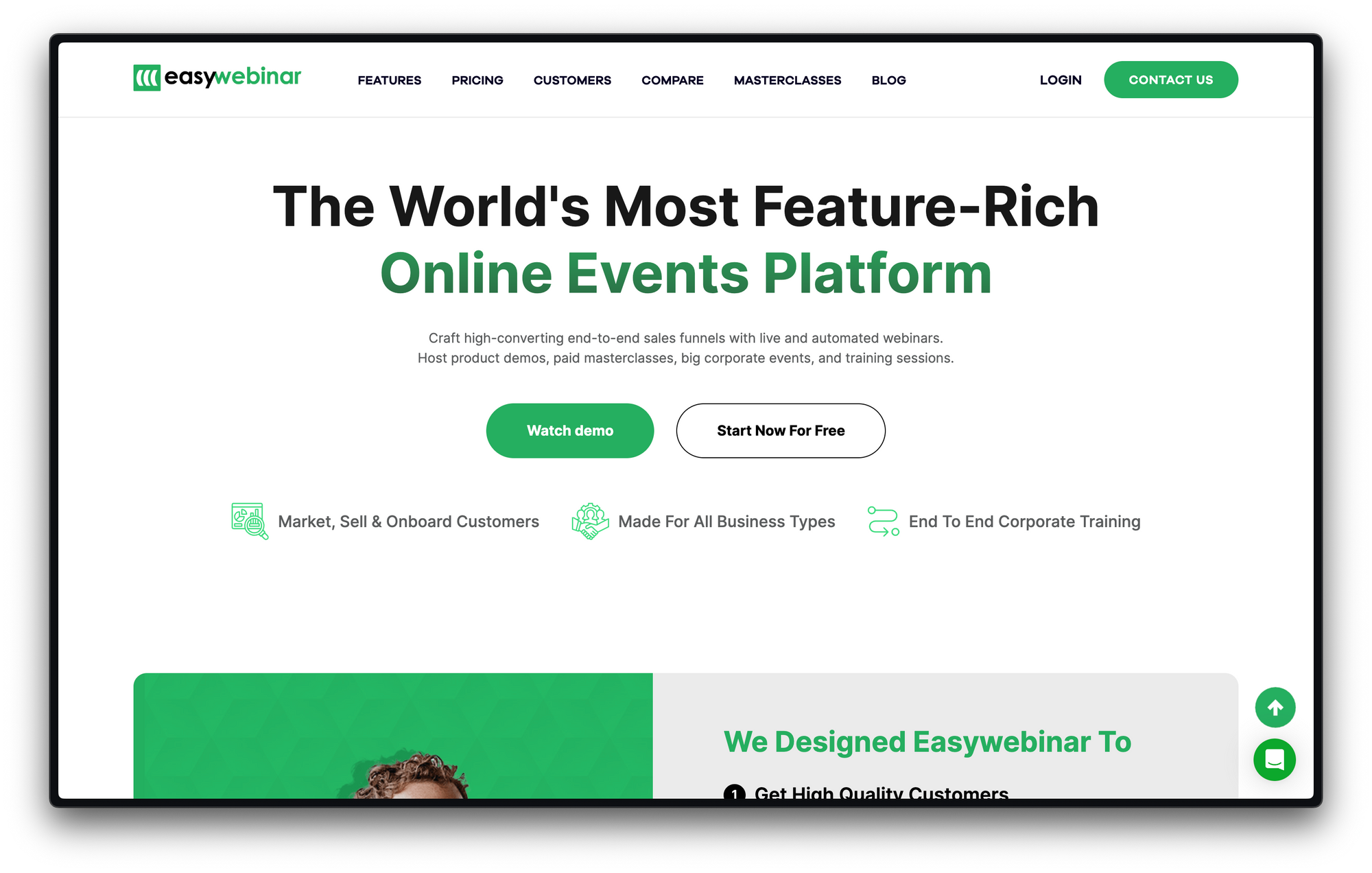 EasyWebinar is a cloud-based webinar solution with features for live and recorded webinars. They offer a good range of features to help businesses manage their live conferences and evergreen webinars.
Key Considerations:
Technical support:
Unfortunately, EasyWebinar doesn't have live human support or an instant chatbot to address customer issues. However, you can access customer support by email.
Price:
EasyWebinar is a bit on the pricey side. They give only 3 automated webinars per month in their standard plan. Contrast offers more than that in our free plan.
3. Demio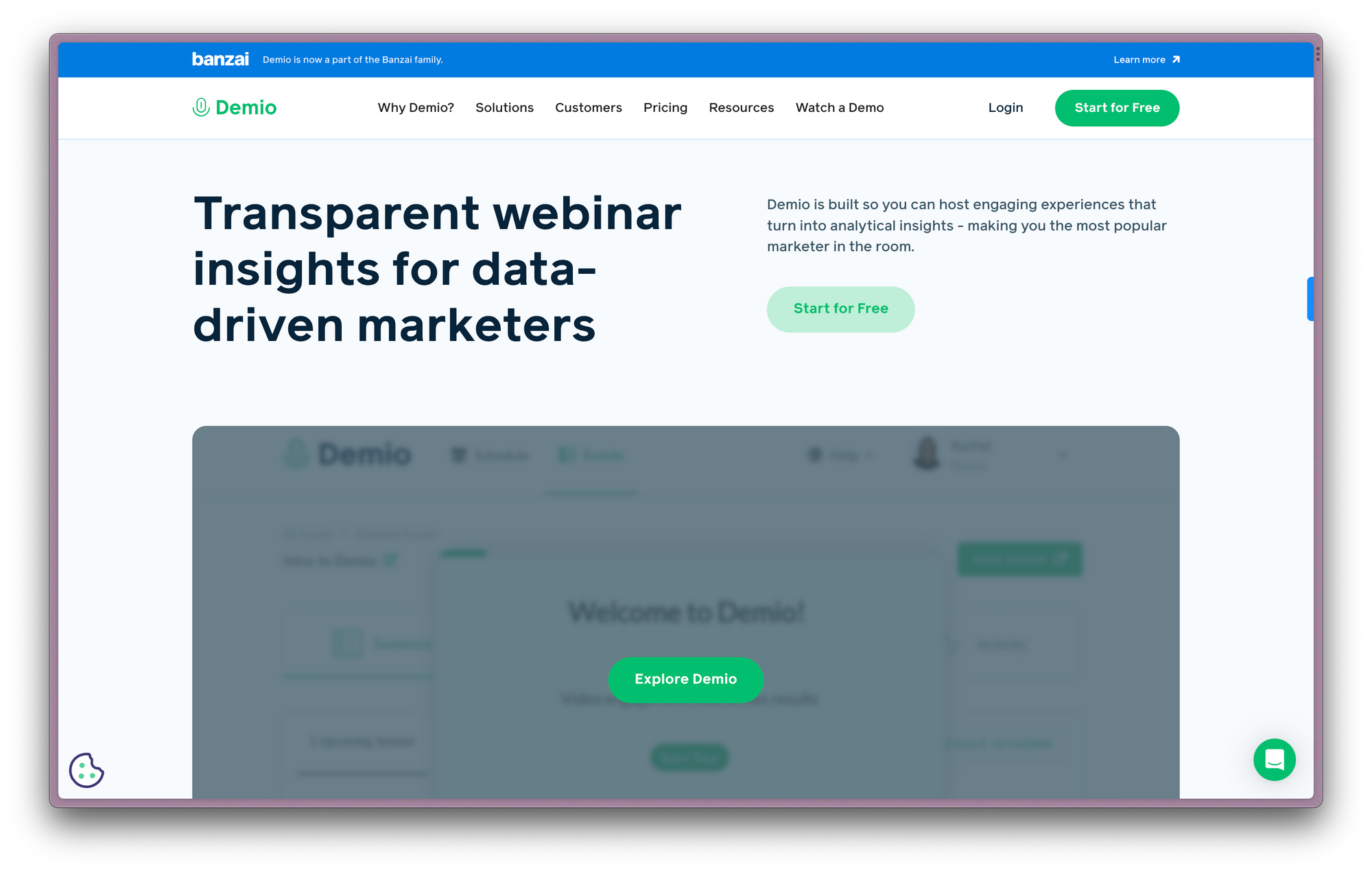 Demio does a good job at making its webinar really easy to set up. Whether you're selling stuff or teaching, it's designed for everyone. You can chat, ask questions, and make your online events lively. They focus on providing the basics at a cheap price.
Key Considerations:
Free trial:
Demio offers a 14-day free trial, but you can't host evergreen webinars in the free plan or in the starter plan. On-demand webinars are only available in the more expensive Growth Plan that starts at $75/month.

Contrast lets you host up to 10 on-demand webinars in our free plan.
Custom branding:
Demio allows you to customize your webinar environment with your branding elements such as colors, and backgrounds. Ensuring a consistent and professional look that aligns with your brand identity. But features like custom fonts and logos are not available.
4. Webinar Geek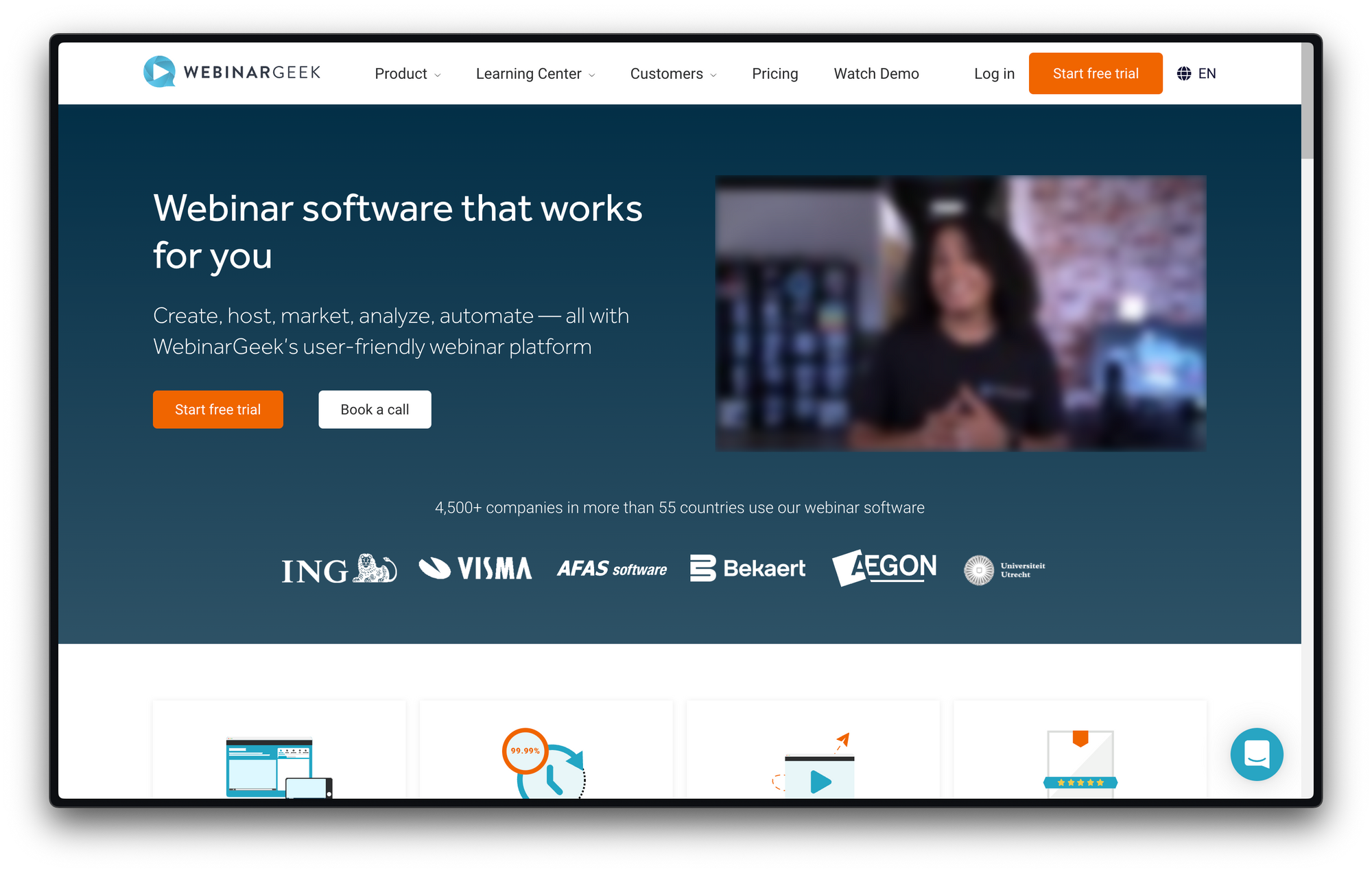 Webinar Geek makes running live webinars easy and does a good job of turning them into evergreen content. The platform has an intuitive design, highlighted by their streamlined registration page. This user-centric feature gives a hassle-free experience for attendees.
Key Considerations:
Event communication:
Webinar Geek lets you create registration forms, send out reminders to boost attendance, and schedule follow-up emails to stay connected with your audience. But the custom branding for these forms and emails are limited.
Analytics:
Webinar Geek provides useful information about your webinar. You can see how many people attended and how engaged they were. It also shows what parts of your webinar were the most popular. However, this analytics feature is only available in the paid version, which starts at $69/month.

Contrast provides a full analytics suite in our free plan.
5. Webinar Ninja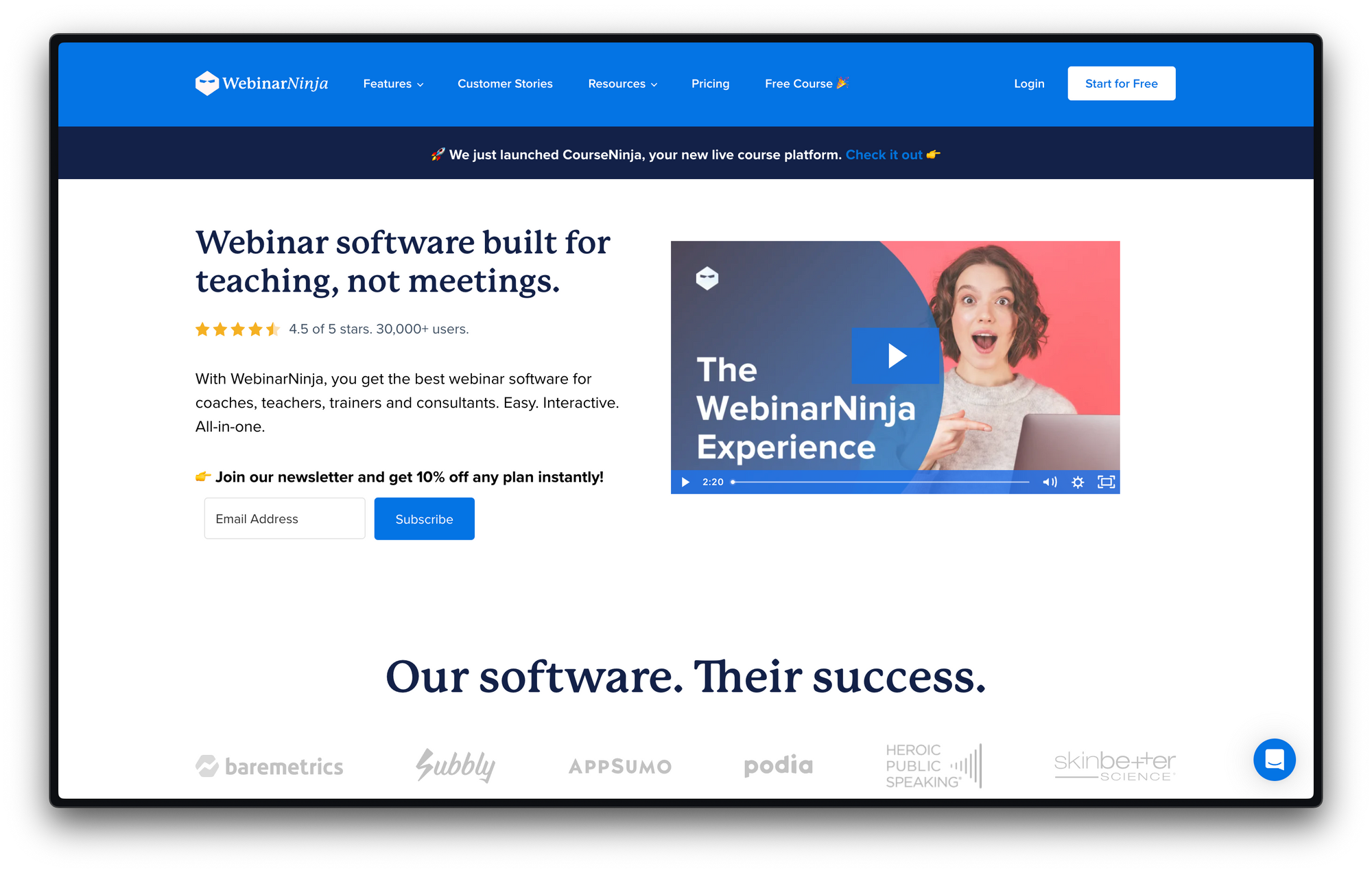 Webinar Ninja is a simple webinar training and coaching platform. The platform has an easy-to-use interface. WebinarNinja enables businesses to set up webinars on a weekly, daily, or on-demand basis and predefined date and time. This is a convenient feature for companies that need to run recurring webinar series, like weekly product demos.
Key Considerations:
Pricing:
Webinar Ninja offers on-demand webinars, which it refers to as automated webinars. However, that feature isn't available on their cheapest pricing plan and is only available on the more expensive Pro Plan for $99/month.
Multiple Webinar Formats:
WebinarNinja supports different types of webinars, including live, automated, series, and hybrid webinars. This gives a lot of flexibility, but only the live format is available on their basic plan. The rest only get unlocked if you pay for more expensive packages.
Effective Ways to Repurpose a Webinar
Creating a webinar is time-consuming, so it's smart to repurpose live content into evergreen webinars. To do this effectively, use different webinar styles and gather data from polls and Q&A sessions. Identify the most engaging parts of your webinars and turn them into other forms of content.
On top of turning live webinars into evergreen webinars, you can also repurpose webinars through the following:
Social clips
Podcasts
Blog posts
Slides
Check out our webinar repurposing guide for a more in-depth guide on this topic.
Frequently Asked Questions about Evergreen Webinar Software
1. What role do analytics play in evaluating the success of an evergreen webinar?
Analytics are crucial for evaluating the success of an automated webinar. They provide valuable data on attendee behavior. You can see how long people stayed, what parts they liked, and the comments made by the audience. These insights help presenters understand what resonates with the audience. This can help to refine future webinar content.
2. What are the most common mistakes people make in selecting evergreen webinar software?
A common mistake in choosing webinar software is not considering the costs as your audience gets bigger. Some platforms may seem cheap at first, but they become much more expensive as more people join your webinars. It's important to pick software that won't break your budget as your audience grows. Make sure you can reach more people without taking on massive expenses.
3. Can I edit or update the content of a recorded and published evergreen webinar?
Absolutely! With Contrast, you have the power to edit your evergreen webinars even after they've gone live. You can add new insights, update information, and keep your on-demand audience engaged over time. You can also replace or add segments, update slides, or edit any other content elements as needed. Doing this helps your content stay fresh.
Conclusion
Having the right evergreen webinar software makes a difference. Software choices impact every aspect of your webinar. It can make the difference in whether your evergreen webinars are a success or failure. If you want to test out our simple process for creating evergreen webinars, you can do so by signing up for a free Contrast account!