It's 2023, and the virtual event landscape is more competitive than ever. Attention spans are low and Zoom fatigue is in full force.
The days of throwing a basic virtual event are over. You can't expect people to show up and give you their undivided attention that easily. Today's audiences demand an engaging experience that rivals or even beats in-person events. But with so many virtual event platforms out there, how do you choose the one that's right for you?
Virtual events are a great marketing tactic. You can show off new products, promote thought leadership, and nurture leads. But marketers need to pick the right platform to get the full value out of events.
This article covers the 8 (yes, we added one) best virtual event platforms of 2023. We'll break down their features, pricing, pros, cons, and what makes them stand out.
Contrast
Zoom Events
Livestorm
Inverse
Hubilo
Airmeet
Hopin
Watchity
If you're tired of boring virtual events and want yours to be better, then this article is for you. Let's dive in!
Contrast
Contrast stands out in this list of platforms for a few reasons. It's a new platform, built for modern teams. We built it with one goal in mind: to make virtual events more engaging.
It's packed with features built to increase event engagement. It also has all the standard features you'd expect in a virtual events platform.
Key Features

Powerful virtual events in just 2 clicks. Contrast events are easy to set up and join.
Get attendees talking by hosting engaging Q&A sessions and polls in a modern chat interface.
Dynamic layouts and on-screen animations help to keep the event interesting. Customize both to match your brand's style.
This virtual event software covers every basic to advanced level feature, including:
Custom invites and automated reminders
Easy to use backend for hosts and speakers
Screen recording and post-event editing and clipping and repurposing tools
Easy downloading (chat and webinar transcripts, viewer engagement data)
Integrations with Zapier, Make.com, Hubspot, and more
You and your attendees will have a great experience with this virtual event platform.
Pricing
Contrast offers competitive pricing that matches your needs - especially for startups.
You can start for free with an unlimited number of seats, up to 10 stored videos, and up to 50 unique attendees per month.
The Pro plan at €60 per month gives you up to 90 stored videos and 100 unique attendees per month.
The Premium plan is essentially unlimited EVERYTHING.
What Customers are Saying
Contrast's long list of happy clients includes tech startups like Vainu, Pennylane, and Getaround.
"Contrast brings a new vision of live video broadcasting. A vision that combines simplicity, beauty of content and performance management. I've been waiting for such a solution for years."

Maxime Baumard • CMO at Pennylane
Here's a recent review from G2.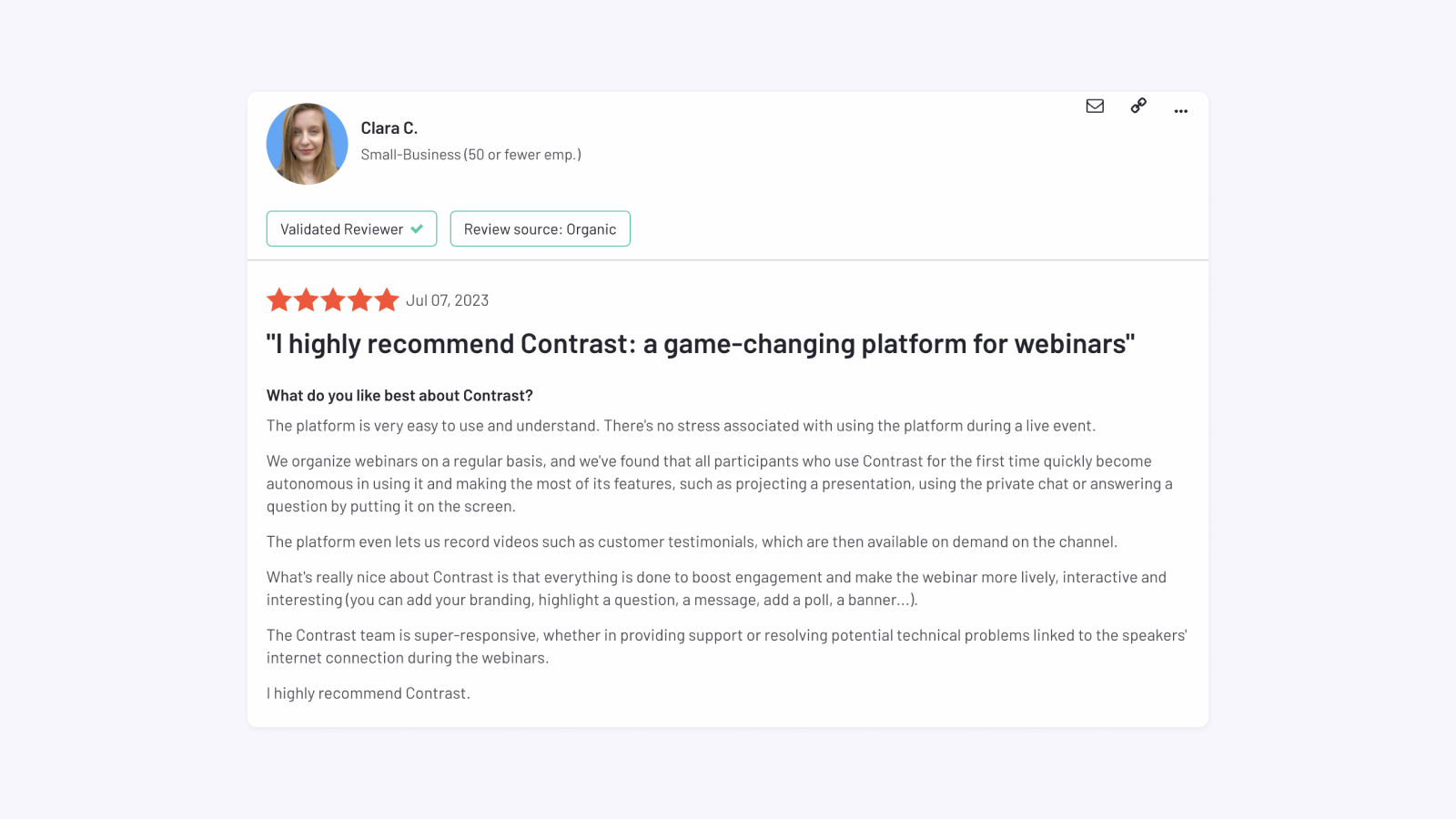 Zoom Events
Zoom lets you run virtual events with all the standard features that you would expect. They have plenty of customization, data analytics, and solid event landing pages. It's a stable platform for both free, paid, live, and on-demand events. One major drawback is that attendees need to download the platform. That extra step can add a lot of friction, especially for those at large companies who might not have permission to download apps.
Key Features
Screen sharing and recording
Special features for event sponsors
Expo floor where attendees can interact with virtual trade booths
Integrations with tools like Slack, Google Calendar, Shopify, and Salesforce.
For an extra cost, you can have translated captions
Whiteboards, cloud storage, and breakout rooms
Pricing
A Free plan offers up to 40 minutes per meeting with access to 100 attendees/meeting along with other basic features like Teamchat, a basic Whiteboard, Mail & Calendar.
For a more extensive audience and increased cloud storage, you can opt for the Pro or Business plans starting at $149.90/year/user and $199.90/year/user.
For more advanced options, you'll need to reach out to their sales team to explore their Enterprise plan.
Livestorm
Livestorm has an events platform that lets you manage real and virtual events in one place. Like most virtual event platforms in this list, it has the standard features you would expect. It has good options for customizing registration pages and email invites. Livestorm also does a good job with post-event analytics through a participation report.
You might want to consider a different platform if your marketing team also uses HubSpot. HubSpot users gave Contrast a 4.9 star rating vs. Livestorm with only 2.8 stars. Both platforms have a similar number of reviews. A common issue that HubSpot users complain about is Livestorm's source tracking. That's important to understand where event registrations are coming from.
If you're looking for a more in-depth review of Livestorm, check out this comparison of Livestorm vs Contrast.
Key Features
● Customizable registration pages
● Comprehensive analytics (aside from source tracking)
● Seamless integrations
● Live chat, Q&As, polls
● Automatic recordings
● Easy access to virtual rooms
Pricing
The free plan gives you just 30 active contacts per month and only 20 minutes per event.
They have a Pro plan at $88 per month but force you to pay annually. That plan covers 100 to 500 active contacts per month, unlimited team members, and up to 4 hours per event.
Livestorm locked important features like integrations and longer events behind their Enterprise plan.
Inverse
You might know Inverse from their previous name, Gamerjibe. It's a virtual event platform built for conferences and events in a 3D virtual space. Attendees immerse themselves in a virtual world like a theater or campfire. The goal is to create a feeling like an in-person gathering.
Key Features
Customizable avatars and virtual destinations
NFT-metaverse integration that lets you showcase your brand in a unique way
Connect with other attendees on social media by clicking on their profiles.
Measure booth engagement and track attendee voice/video usage for constructing in-world leaderboards.
Pricing
It comes in two distinct modules, one for individuals and the other tailored for brands. Individuals can start for free, but brand pricing isn't published online.
Hubilo
Hubilo is a versatile platform tailored for hybrid events. It has good engagement and networking features in its break-out rooms and lounges. They also have a mobile app that mirrors the desktop experience. That feature alone makes it a great option for hybrid events.
Key Features
Live chat, Q&A sessions, and polls.
Integrations with popular CRM and marketing automation tools like HubSpot, MailChimp, and Salesforce
A public API lets users connect this virtual events platform to custom applications
Sponsors and event partners can also customize their brand experience
Pricing
Hubilo has three plans, but they don't share pricing for any of them. One major limitation is that their entry-level plan doesn't include registration & ticketing features. You'll also have to upgrade to get advanced engagement features like gamification.
Airmeet
Airmeet delivers high-quality virtual and hybrid experiences. Their platform works well for developing eye-catching landing pages and good-looking events. They also have a robust analytics platform designed for sales teams.
Key Features
Reporting and analytics to track every detail
Create unique branded experiences
Interactive chat sessions, polls, and Q&As
Their AirIntel feature helps track expected revenue from your event
Pricing
Airmeet has transparent attendee-based pricing. You pay for the number of attendees and can host unlimited events. You can choose from four plans:
The Free Plan offers unlimited small webinars for 50 attendees per event. But, you can only have one organizer license per account.
The Premium Webinars plan lets you have between 100-10,000 attendees. You'll also get 3 organizer licenses per account.
The Virtual Events plan offers 5 organizer licenses per account and 100K attendees.
Their All-in Suite bumps you up to 10 organizer licenses per account.
Hopin
Hopin is a virtual events platform that tries to mirror in-person events. Replicating that is challenging, but Hopin's impressive virtual spaces deliver a commendable approximation. It is a browser-based platform like Contrast so you don't need to download any software to register.
On the business side of things, Hopin has been noted to have been struggling lately. In August of 2023, parts of the business were sold off to RingCentral.
Key Features
● Access to customizable virtual venues and stages
● Multiple interactive features like chats and polls
● Immersive video experiences through integrated live video platforms like StreamYard and Streamable
● Unlimited concurrent live sessions and allowing up to a maximum of 100,000 viewers
● Available in 5 languages with 24/7 support
Pricing
Hopin is available in three different plans:
A Free plan offering 100 registrations per 2-hour event. Basic analytics, transcripts, in-event integrations, and more.
The Starter Plan at $99/month gives you access to core Hopin features like more than 100 registrations and 72-hour events. You also get the HubSpot integration, access to Canvas, event replay, and more.
The Growth Plan at $799/month adds 5 admin organizers while lower-level plans only have 1 admin seat.
Their Business Plan starts at $6000 and gives you access to all the best features. Multiple stages, advanced branding and analytics, SSO, Hybrid event capabilities and more.
Watchity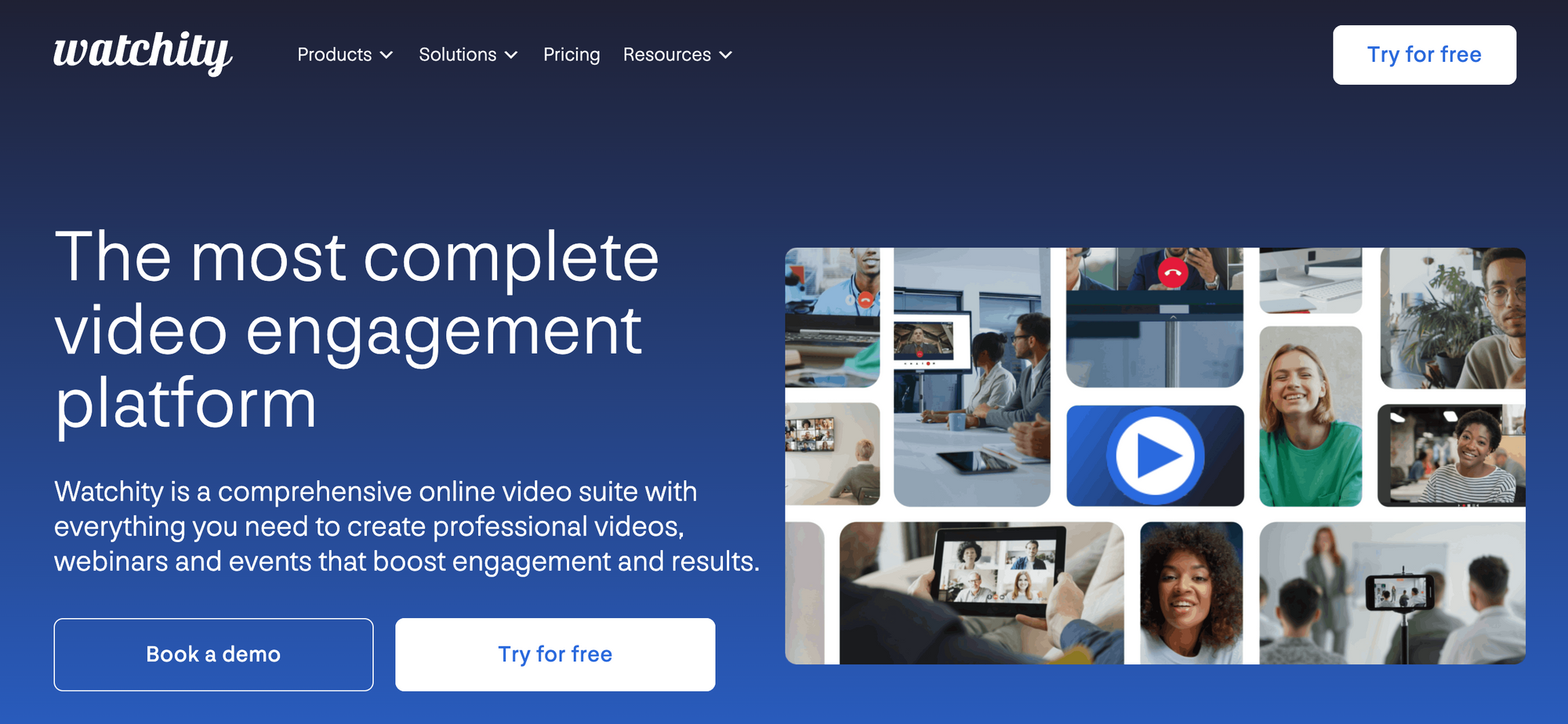 Watchity is a comprehensive video engagement platform that includes everything you need to create webinars and virtual events with a professional look and a great attendee experience. It also allows you to produce live events for social networks and to record, edit and share videos for internal and external audiences.
In an increasingly audiovisual world, one must move beyond traditional videoconferencing to create events and content that arouse more emotions in the audience, reinforce the brand's positioning, and achieve higher levels of engagement, and Watchity is just the kind of platform that will allow you to do so.
Key Features
1. Management of virtual events from start to finish (registrations, landing pages, reminder emails, content customization, analytics, and session reports).
2. Live Studio for production, editing, and distribution of professional, tv-live video.
3. Event Room with multibitrate and adaptative HLS streaming, player controls (play/pause, start-late, DVR, etc.) and embed code for a seamless integration with any website.
4. An scalable and secure global video delivery network to reach your viewers wherever they are, with an unlimited number of simultaneous attendees.
5. Audience interaction through proprietary tools (Q&A, chat, surveys) or through third party integration (Kahoot, etc.)
6. Auto recording and auto playback of sessions.
7. Multistream (simultaneous live streaming to several social media accounts) and live clipping (cut and share videos straight from a live video feed)
8. Event and video analytics and reporting.
Pricing
Watchity offers three different pricing plans, "Business Starter" for SMB, "Business Plus" for Mid-sized companies and then "Enterprise" for large organizations, which is tailored to the customer's needs. In addition, Watchity offers a free trial of 15 days to try out the functionalities and the potential reach of the platform.
Tips for choosing the most efficient virtual event platform for your business
Today, a virtual event platform is critical for marketing teams to run successful events. Here are the most important factors to consider when choosing one:
User-Friendly Interface
A user-friendly interface is the cornerstone of a successful virtual event. There should be an intuitive layout, easy navigation, and clear instructions. The platform should be accessible across different devices and operating systems. This will enhance attendee engagement and make it more accessible.
Scalability
The ability to scale up and down is paramount for hosting large virtual events. Make sure your virtual event platform can handle a large number of attendees. A reliable infrastructure is also essential to prevent technical glitches during an event.
Record and Edit
Recording virtual events is a valuable feature. This feature benefits attendees who might miss a live session and allows them to catch up later. Additionally, you can use this content for marketing, training, or educational purposes. Contrast's built-in clipping and editing tools are great for this.
Customization Features
Your virtual event platform should have rich customization features. This includes tailored landing pages, custom online rooms, emails, and so on. This is important to make sure your events feel tailored to your audience.
Integrations
Your event platform should complement your marketing stack. Integrating with your other tools saves time and gives you actionable, clean data.
When it comes to online events, your focus should be on delivering the best experience. Choose a virtual event platform that can keep up with your audience's evolving expectations.
Considering all of these factors, we feel that Contrast is the best overall solution. Especially if the following things are important to you:
Easy to use and get started
Attendee engagement is your number one priority
Startup-friendly pricing