This article will cover a list of the 10 best WebinarJam alternatives for 2023: their pros, cons, use cases, and a general review. Before we dive into the list, let's do a brief review of WebinarJam's features and pricing.
Want to jump straight to the list?
1. Contrast - the new way to run webinars: fun, engaging, and authentic
2. Zoom
3. Crowdcast
4. Demio
5. Livestorm
6. Webex
7. Hopin
8. ON24
9. BigMarker
10. GotoWebinar
WebinarJam review:
WebinarJam is one of the cheapest webinar platforms available on the market. They focus primarily on the webinar use case and cover all the basic features you need to run a webinar: registration pages, emails, and engagement features. They also provide automated webinars and a landing page builder (that some users have called complex).
They focus on providing an easy-to-use platform, allowing anyone to create webinars, but this sometimes comes at the cost of the quality of the webinar itself. Viewers have reported a more complicated experience than with other tools we're going to be listing today.
WebinarJam does not offer any native CRM integrations (Pipedrive, HubSpot, or Salesforce) so you need to build those using tools like Zapier.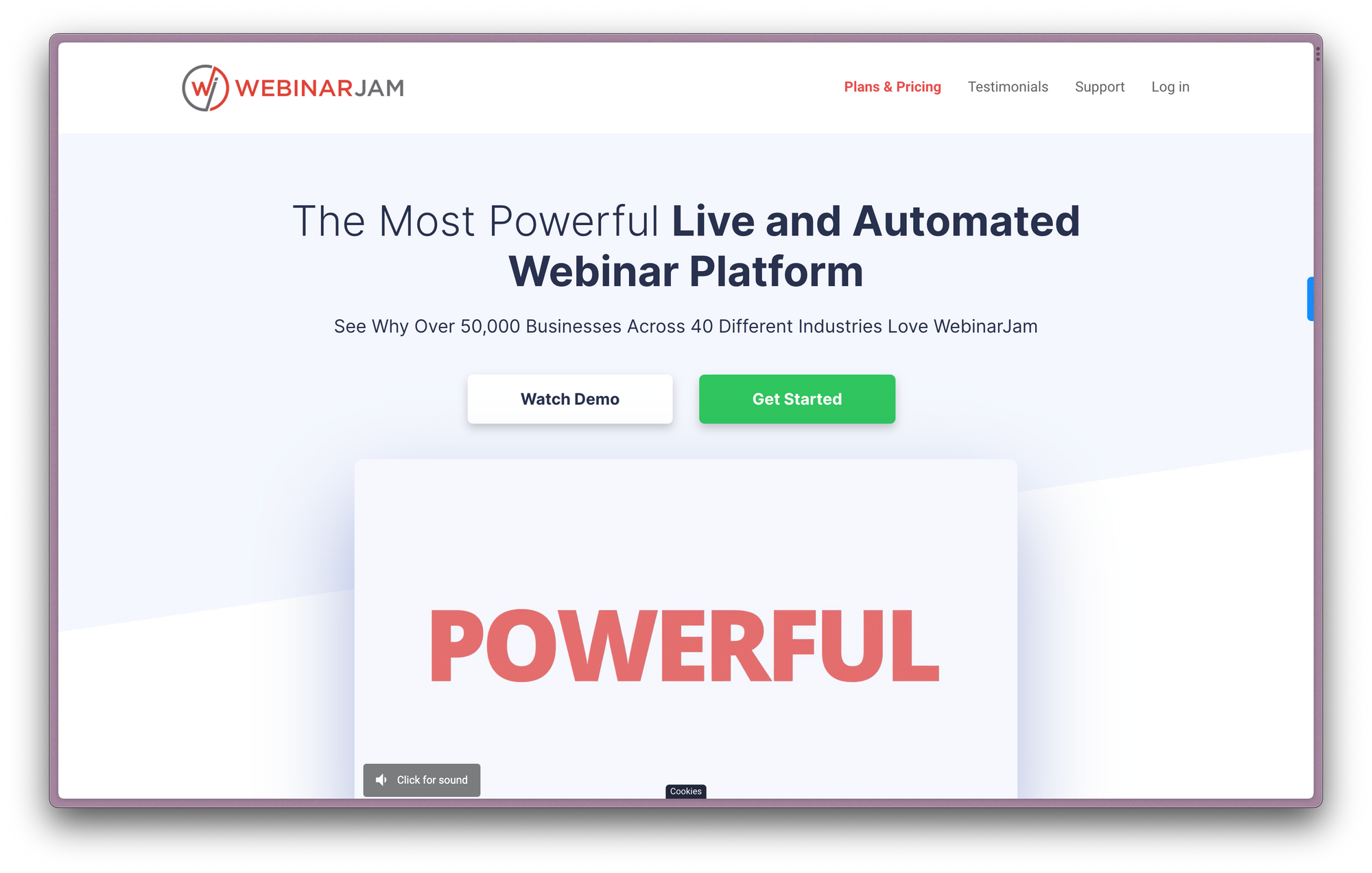 Pricing
WebinarJam only offers yearly plans that aren't very flexible depending on your needs in terms of audience size and number of hosts.
These start at:
$468 /year for <100 live attendees (1 host)
$948 /year for <500 live attendees (2 hosts)
$2748 /year for <2000 live attendees (4 hosts)
$4548 /year for <5000 live attendees (6 hosts)
This is one of the cheapest pricings of all the webinar tools, however the limited number of host seats can be problematic when looking to scale your webinar efforts.
Why look for a WebinarJam alternative?
Today's webinars need to be different
It's 2023. Zoom fatigue is a real thing. You can't just put on a boring and un-engaging webinar experience and hope that it will drive new business.
Think of the content you watch today: Twitch, YouTube, Instagram, TikTok, and all the other platforms. These are nothing like your typical WebinarJam webinar. They're modern, engaging, branded, customizable, and fun.
Attention spans are going down and expectations are so high with all these new types of content we watch daily. Platforms like WebinarJam just aren't made to create the type of content that people want to watch today - but you know that because you're here looking for alternatives.
Businesses need a modern and engaging experience
Modern platforms have been slowly replacing the ones you might know today. Zoom has had major security issues, and other players like GoToWebinar or Webex aren't innovating fast enough to keep up with the newer players (we'll cover more in this article).
Today, webinars (and events) need to be focused around the attendee experience and should be seamless like Youtube, or Netflix - otherwise people will never sign up. But also ease of use for the team, moderator, and speaker, so you can focus on creating great content that generates more revenue. By engaging the audience, you can create thought leadership, and build trust with people watching your content - ultimately driving new business.
These webinar tools also need to provide in-depth analytics directly in the CRM to help prioritize and personalize outreach, helping sales teams close more deals and helping marketing teams better nurture their audience.
Let's jump right in.
10 Best WebinarJam Alternatives in 2023
1. Contrast — the new way to run webinars: fun, engaging, and authentic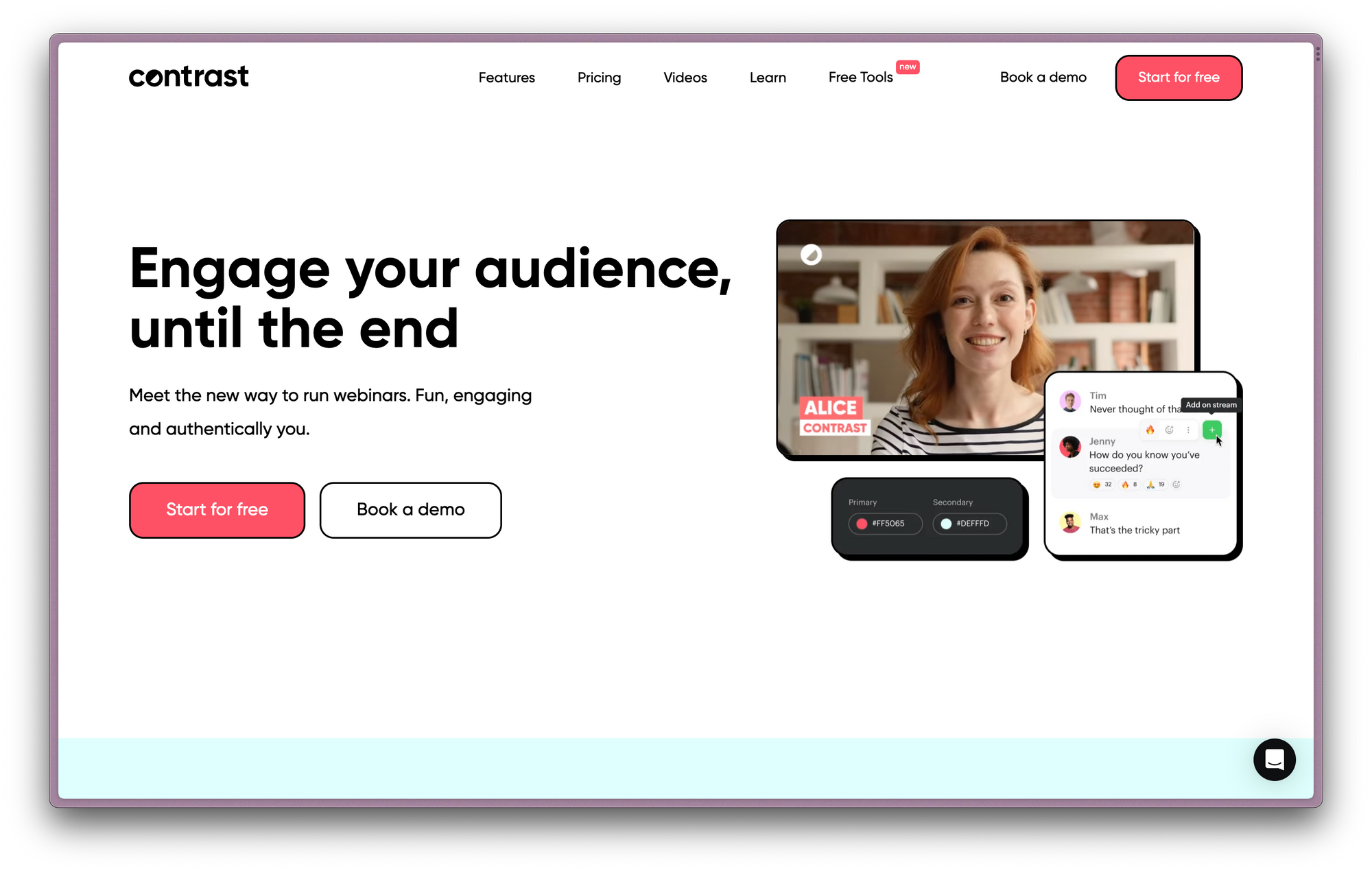 If you're looking to put on a more modern experience than with WebinarJam, then Contrast is the right webinar platform for you. It was built to be easy to use, allowing anyone in your team to create an engaging webinar without needing specific skills. Sign up for free (no credit card) and set up your first webinar in minutes. No downloads for you or for your audience.
Here's what you can do with Contrast as a WebinarJam alternative:
Create modern, engaging content
All Contrast plans come with unlimited access to the Studio. The Studio is where you can prepare, animate, and moderate your webinar: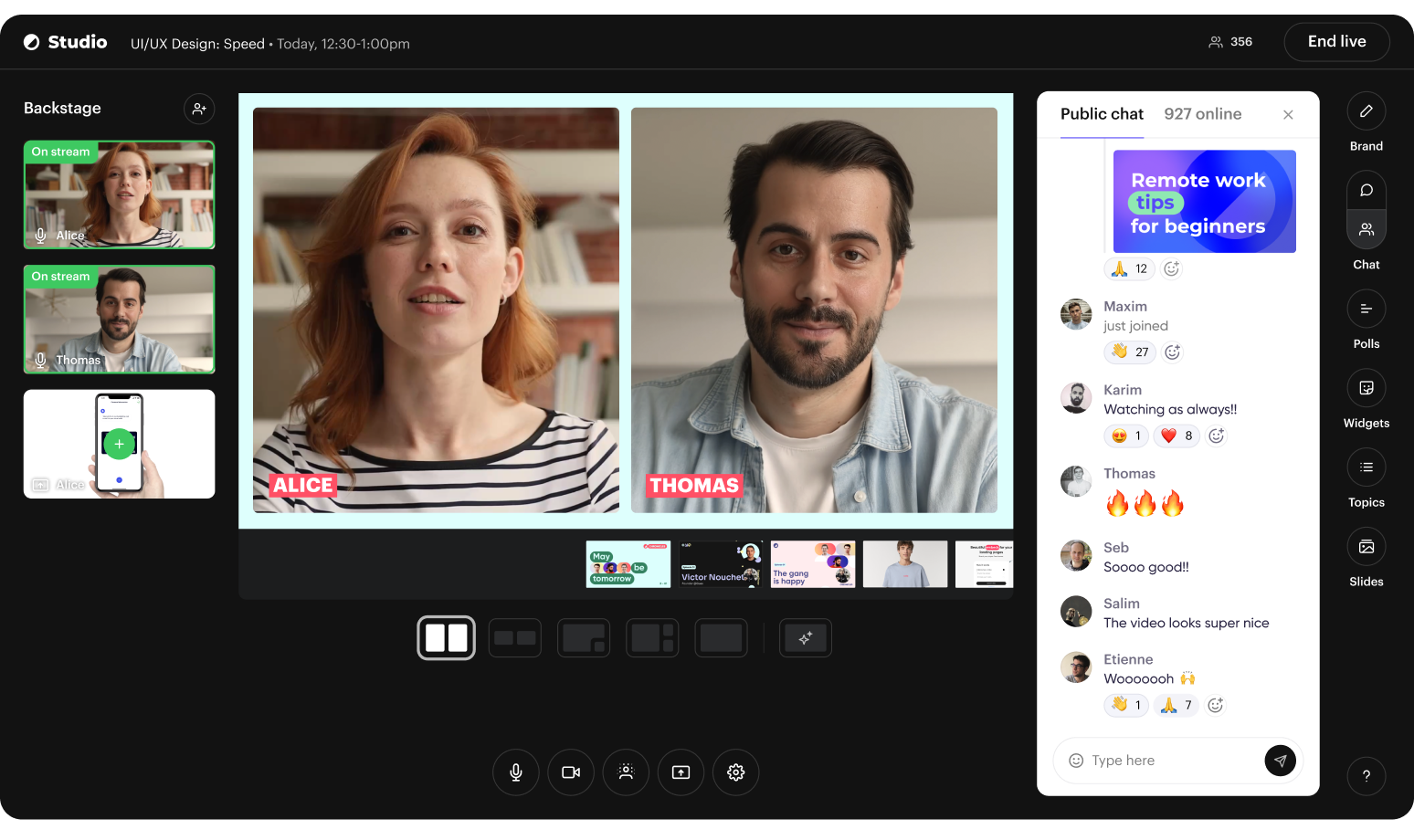 Contrast's Studio has 2 big advantages over WebinarJam:
1. High-quality, branded video
You can upload your logo, colors, fonts, and custom background to make the webinar feel like your brand. These colors will be used for speaker names, on-screen transitions, polls, and Q&A mode - increasing brand recognition. You can even select a theme to better suit the look and feel of your company. Video is recorded in 1080p (720p just doesn't cut it in 2023) so you and your speakers look clean and crisp while delivering your webinar.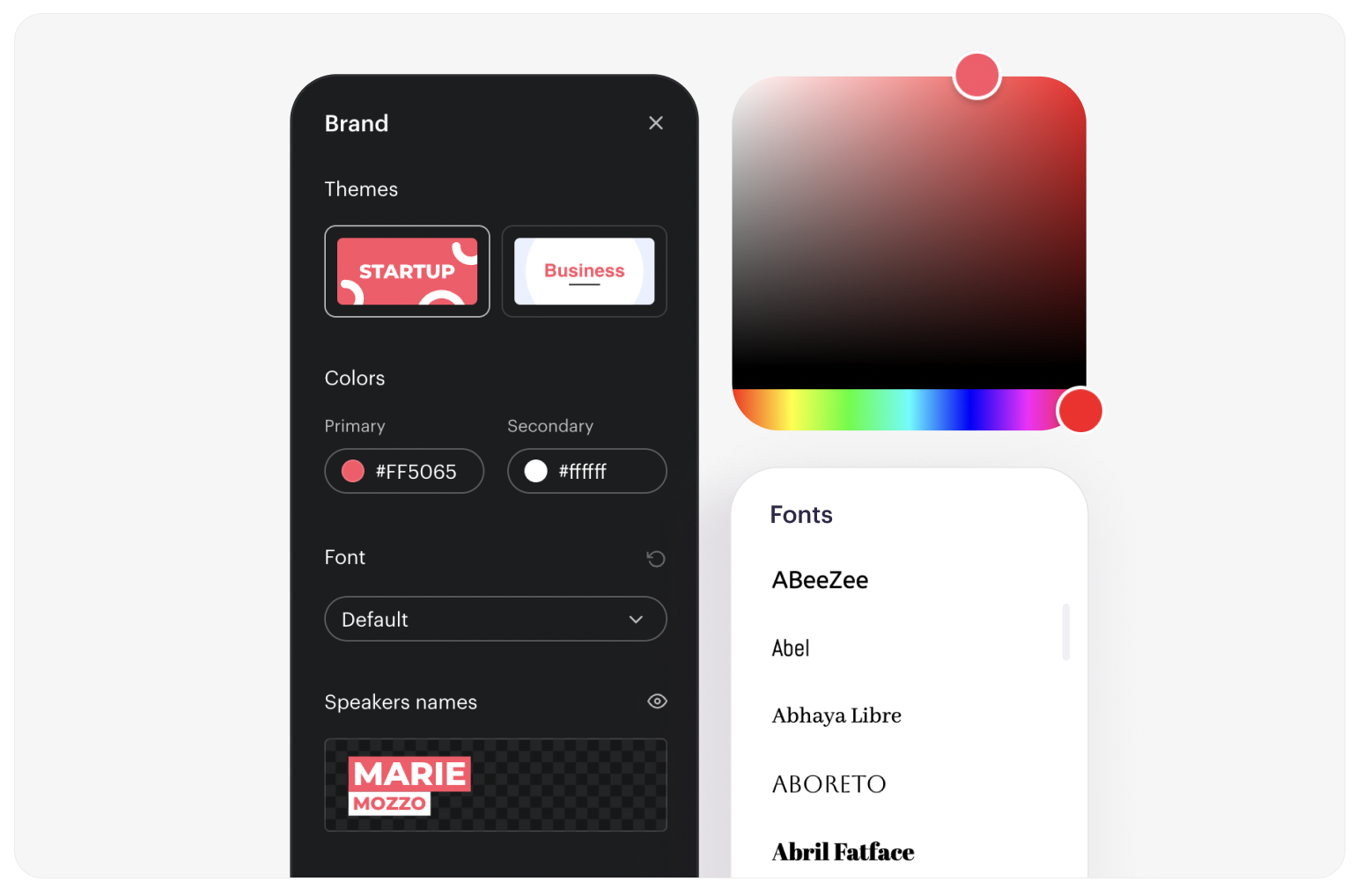 2. Engage your audience
But good-looking video isn't enough. You need your webinars to engage your audience (and keep them engaged). Engaged audiences listen to what you have to say - this builds trust and of course, generates business.
Contrast has a ton of features to help with engagement: on-screen Q&A, a modern chat experience (emojis, replies, link unfurls), topics and transitions, polls and on-screen poll results, and widgets. All these features are built to grab and keep your audience's attention - so they listen to your webinar instead of checking their emails.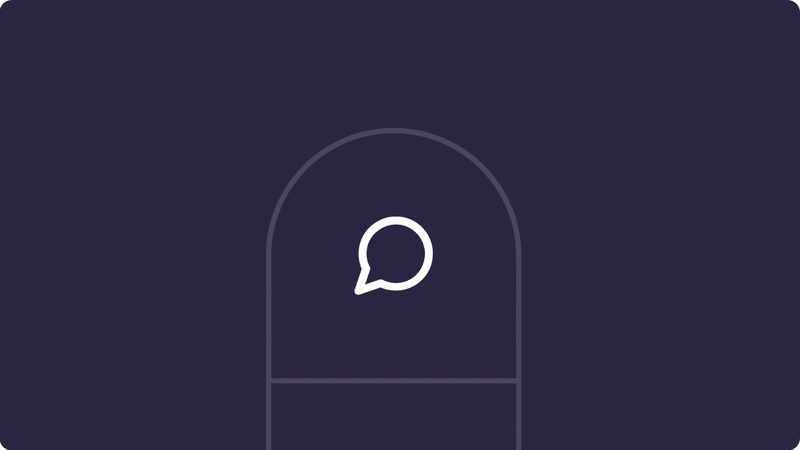 Plus, a few fun small details here and there to make it even better.
Repurpose your webinars in minutes
Putting on a high-quality webinar takes a lot of time, we've run many ourselves. It's a shame that all that content goes to waste as soon as the webinar is over.
Contrast not only helps you put on higher-quality and more engaging webinars, but also get more out of them by repurposing them into different formats.
From one webinar, you can get:
Suggested highlight clips
Transcript of the session
Audience chat transcript
Custom clips
Audio files
All of these can be shared on different channels (social media, blogs, newsletter, podcast, etc.) to increase engagement and get more views on the replay of the webinar - to keep generating leads after the webinars is over.
All the webinars basics you need, and more
Of course, you're also going to need the basics, and Contrast delivers here too.
Landing pages
Customizable registration forms
Automated emails (reminders and follow-ups)
A Channel page for all your webinars (upcoming & replays)
Audience analytics (attendance, watch time, viewer profiles)
And expert CRM integrations.
All webinars are recorded and made available to download or share after the live, so you can keep generating leads while you sleep.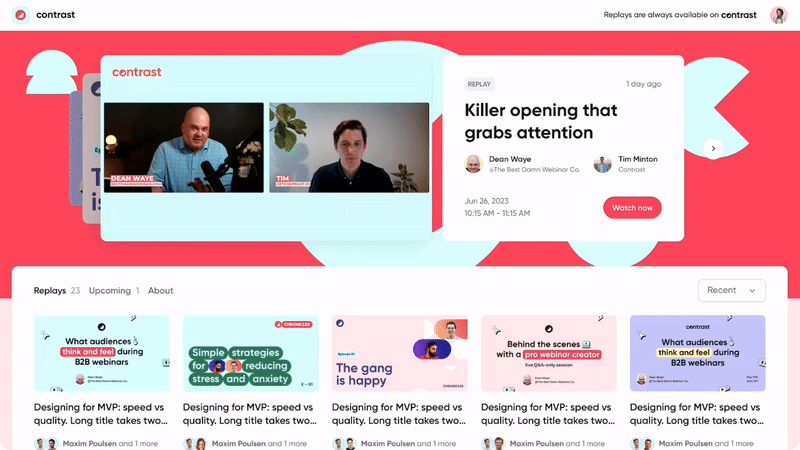 And all of this with unlimited team members, concurrent webinars, moderators, and speakers. No matter what plan you're on.
Conclusion
If you're looking to create modern and engaging webinar experience for your audience, Contrast is the best WebinarJam alternative for you. Obviously we're a little biased since this is our product, but we built Contrast as a 2023-worthy alternative to WebinarJam after being frustrated by the experience. Our easy-to-use tool and priority support on any paid plan means you can run your webinars without a worry.
You can sign up below to get started.
2. Zoom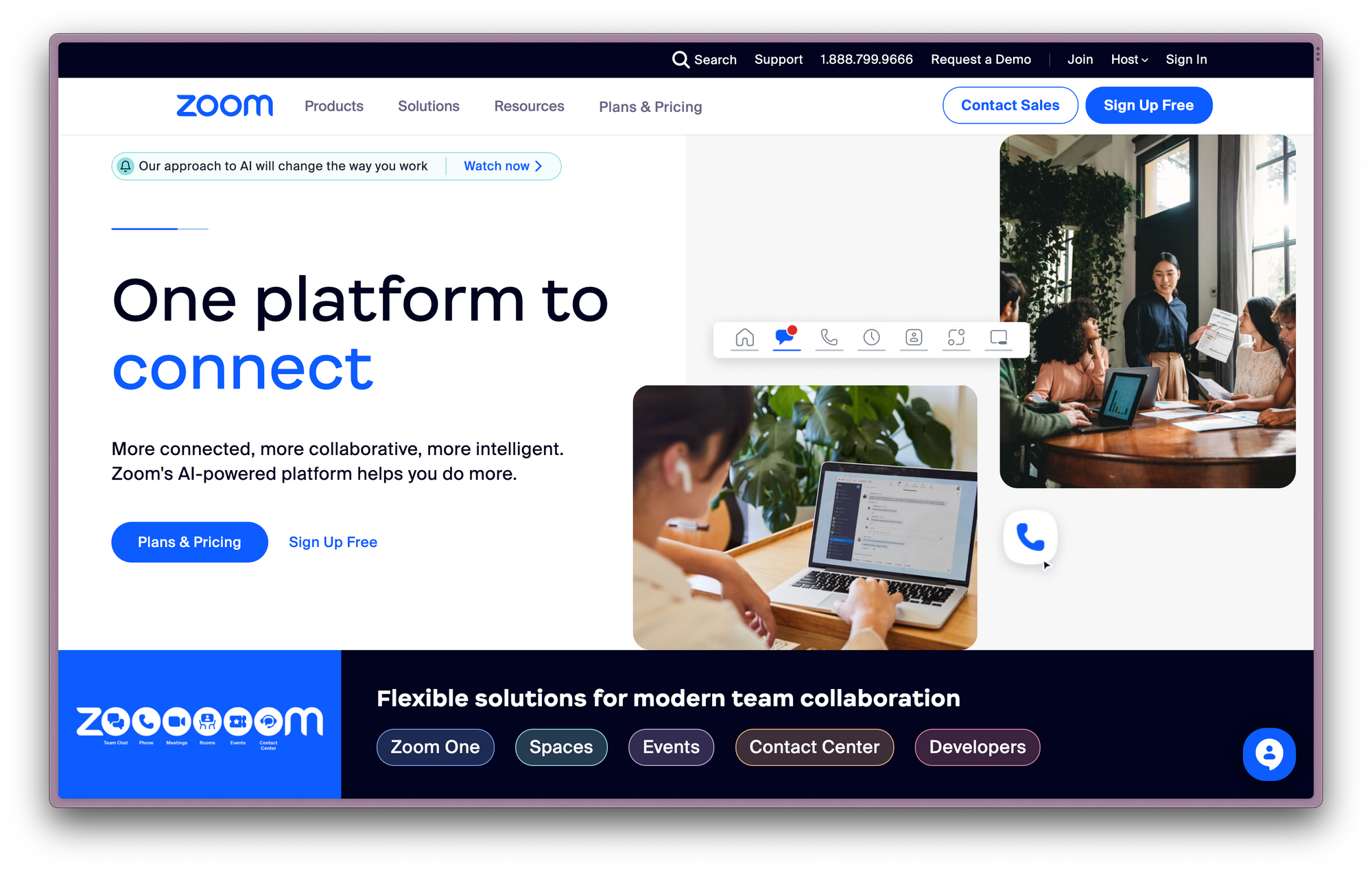 Review
Zoom is probably the first tool that you think of when it comes to any kind of online video communication, and no one would blame you. They started as a video-conferencing tool and slowly made their way toward webinars and virtual events.
But its DNA as a video-conferencing tool and its sheer size today means it's no longer able to innovate and keep up with the trends we're seeing in the webinar industry. This is particularly true when it comes to engagement features.
Pros:
Virtual background and basic branding
Engagement features: polls, Q&A, chat
Affordable pricing for small businesses
Cons:
Security concerns
Download required for optimal experience
Lack of any video production tools
Conclusion
If you're looking for a market-leader, without worrying too much about having the most modern experience and engagement features, Zoom can be a good WebinarJam alternative. But if you're looking to really engage your audience, you might need to invest in a more modern tool.
3. Crowdcast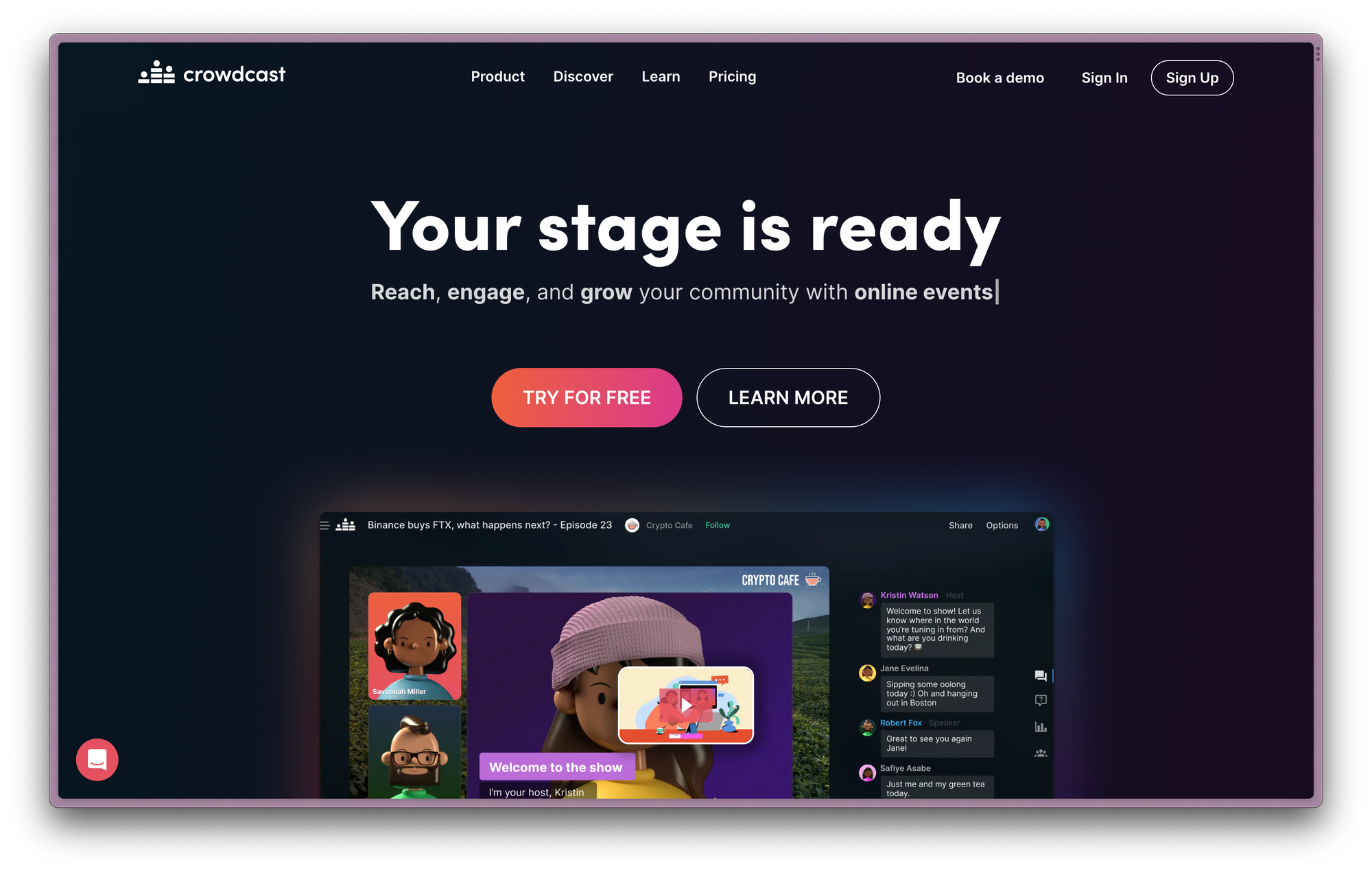 Review
Crowdcast is an online event platform that can be used to run webinars. They focus on the community-building aspect of webinars and don't have a primary use case. They allow mature content on their platform which means they can be flagged by some firewalls, preventing viewers from accessing the content.
They offer many relevant features for webinars: polls, Q&A, chat, but many Crowdcast users have experience reliability issues and have started to move away from the platform.
Pros:
Affordable pricing
Modern engagement features
Multi-cast to YouTube, LinkedIn, Twitch
Cons:
Accessibility issues due to accepted content
Limited CRM integrations
Reliability issues for some users
No free plan (but 14-day trial)
Conclusion
Crowdcast is a great WebinarJam alternative if you're looking for a cheap solution. Their platform is easy to use and has the basic features you need to run a webinar. However, for marketing teams running webinars for lead-generation purposes, their integrations can be lacking, and it can be worth investing more into more modern tools.
4. Demio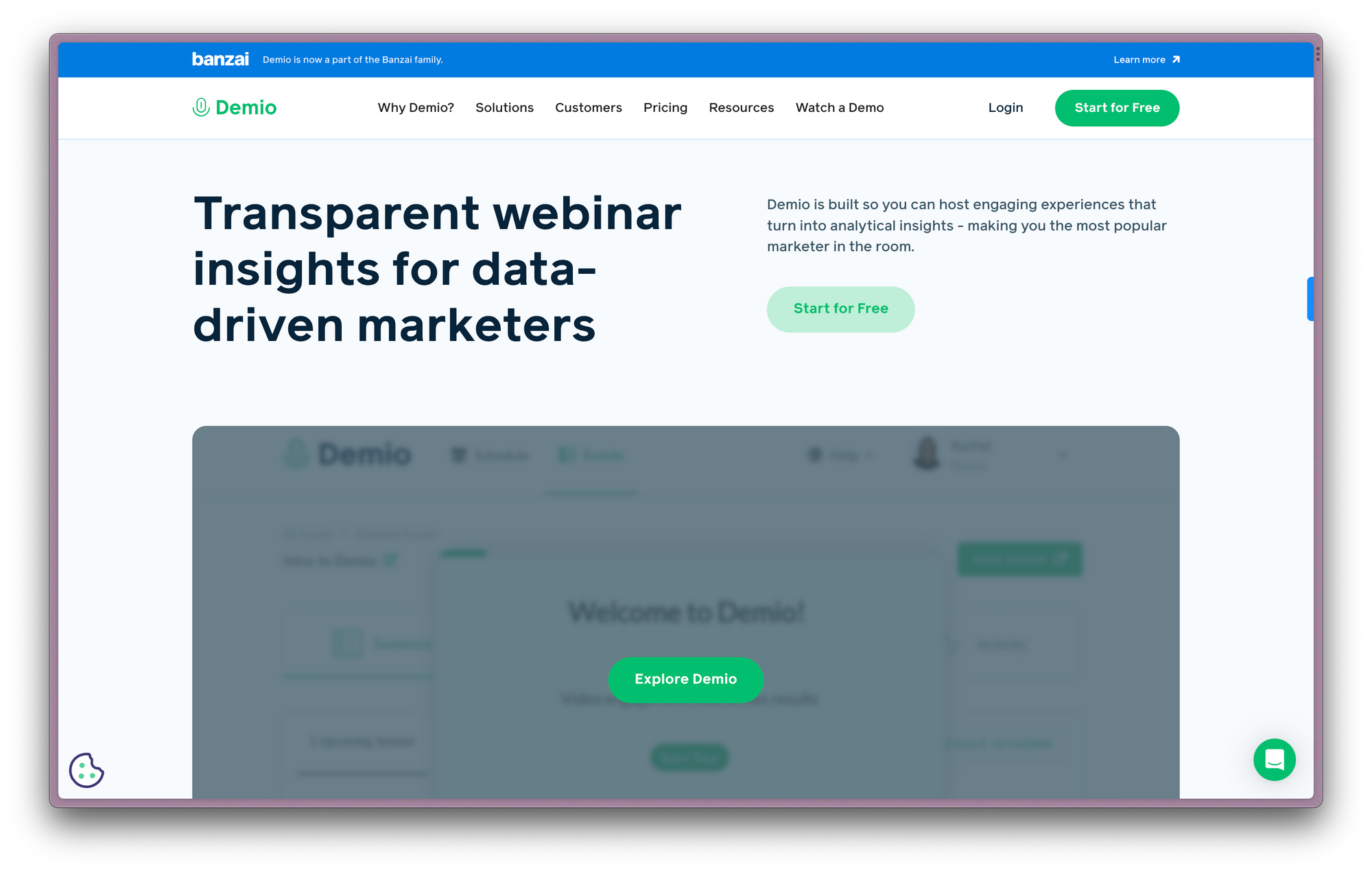 Review
Demio is another WebinarJam alternative - a webinar tool that provides all the basics you need to run webinars. They focus on providing a very basic platform at a cheap price point that makes it easy for attendees to join from their browser.
They offer the basic webinar features (landing pages, emails, analytics) that are easy to use, good engagement features like polls, Q&A, chat, and breakout rooms. However, they are lacking in video quality and viewer experience - Demio webinars can look a little outdated.
Pros:
Ease of use
Browser-based platform
Wide array of engagement features
Main CRM integrations available
Cons:
Viewer experience is outdated
CRM integrations only available on Premium plans
No free plan and very limited free trial (20 attendees)
Conclusion
Demio is a great platform if you're looking for an easy-to-use platform to run your webinars. However, if you're not ready to pay for a year, if you're just getting started, or if you want a modern viewer experience, Demio isn't the right alternative for you.
The new way to run webinars.
Start free with up to 50 registrants.
No credit card needed.
Sign up now
5. Livestorm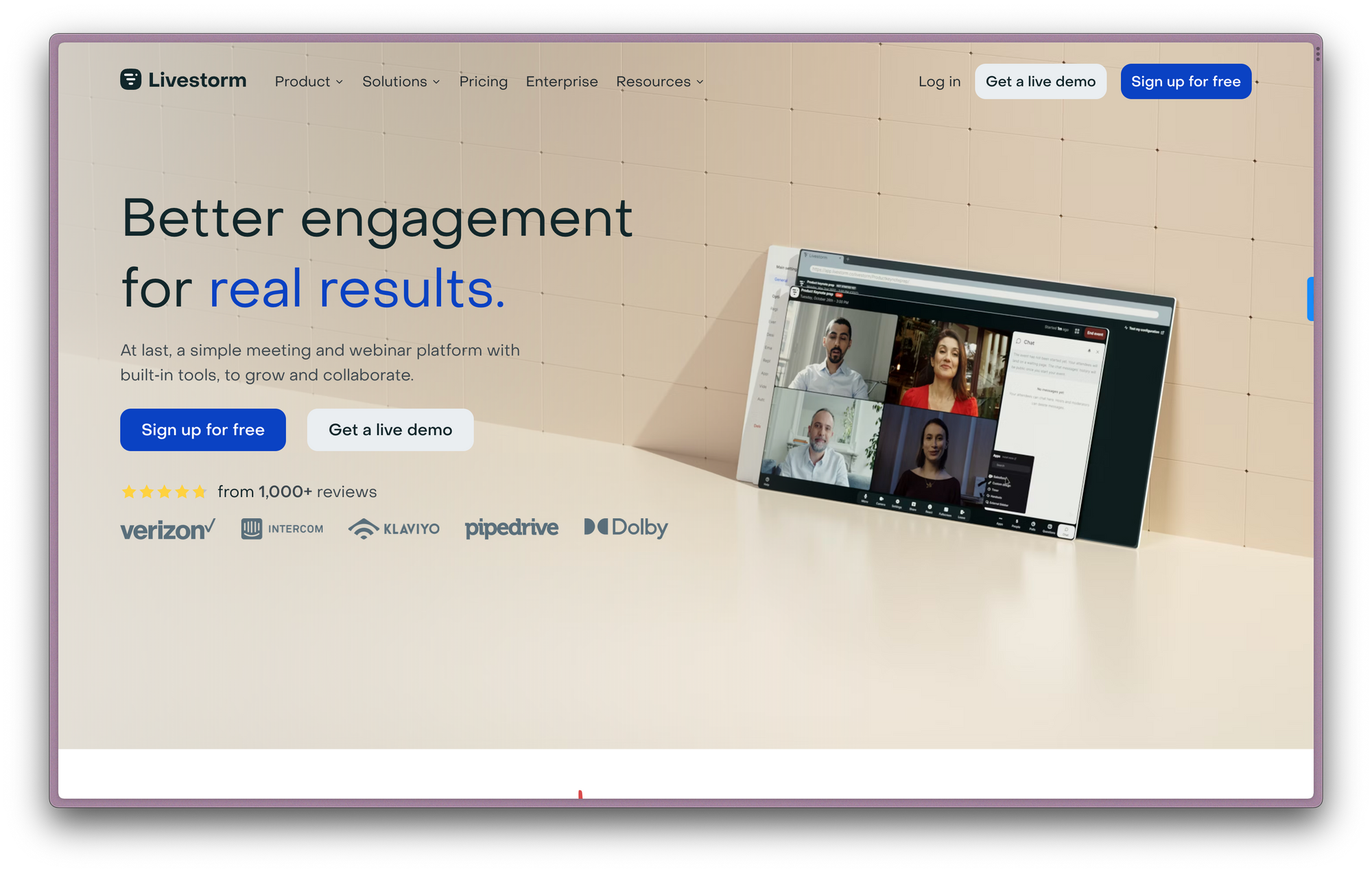 Review
Livestorm is a video engagement platform that can be used to host webinars or virtual events. They're a French company that provides an easy-to-use platform and primarily works with small European businesses. Their tool is one of the more modern alternatives in this list.
Livestorm covers all the basic webinar needs with a relatively modern UI (chat, polls, Q&A, registration pages, automated emails) - and more functionalities can be added through their app marketplace. However, basic means little customization is possible, from the landing pages, to emails, to the video itself.
Pros:
100% browser-based solution
(Limited) Free plan to test the product
Basic engagement and webinar features
Cons:
Can only support up to 3000 attendees
Landing page layout is basic and not customizable
CRM integrations only available on expensive plans
Video quality and branding options are very limited
Replay management is limited and not user-friendly
Conclusion
Livestorm is a user-friendly platform for both moderators and viewers. Their platform is great for hosting meetings and webinars with basic branding capabilities and security & integrations on more expensive plans. However, the quality of the visual output could use some extra work.
6. Webex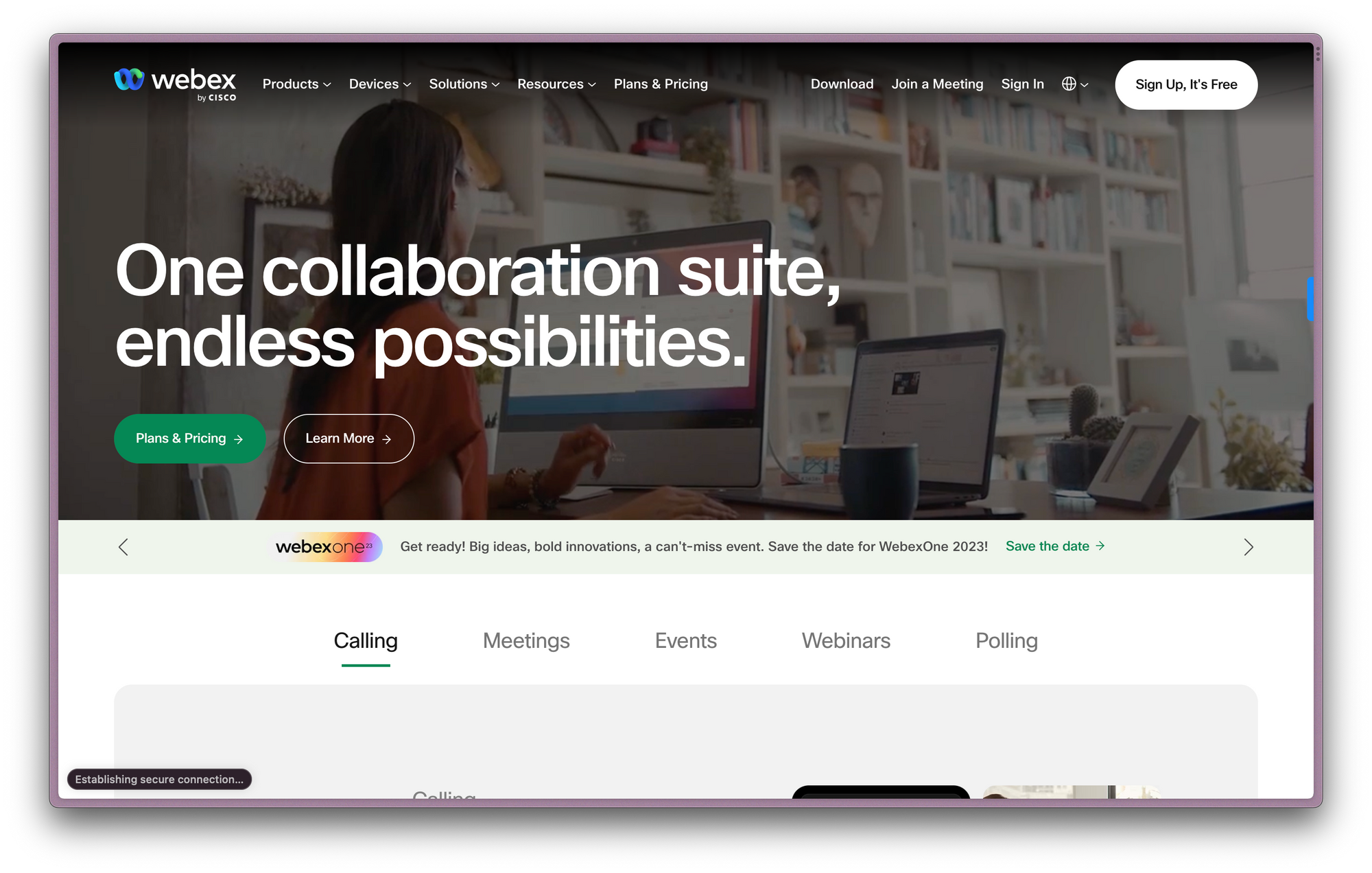 Review
Webex is another WebinarJam alternative that allows you to run webinars, meetings, and virtual or in-person events. They provide end-to-end encryption making it a good choice for anyone who wants to prioritize security and privacy.
Webex has decent engagement features like chat, polls, and Q&A. They also offer an AI assistant to help with note-taking and highlights, which WebinarJam does not offer. This helps a lot with the productivity of meetings.
Pros:
Gamification for virtual events
Advanced networking features like business cards and 1:1 meetings
Breakout rooms available on all webinar plans
Cons:
Pricing is per license so can get expensive quickly
No backstage available on the webinar plan (only practice session)
App required for optimal viewer experience
Tool designed primarily for meetings
Conclusion
If you're looking to host small webinars or large meetings, and are looking for a very secure and private tool, Webex can be a good choice for you. For marketing webinars, there are other better options in this list.
7. Hopin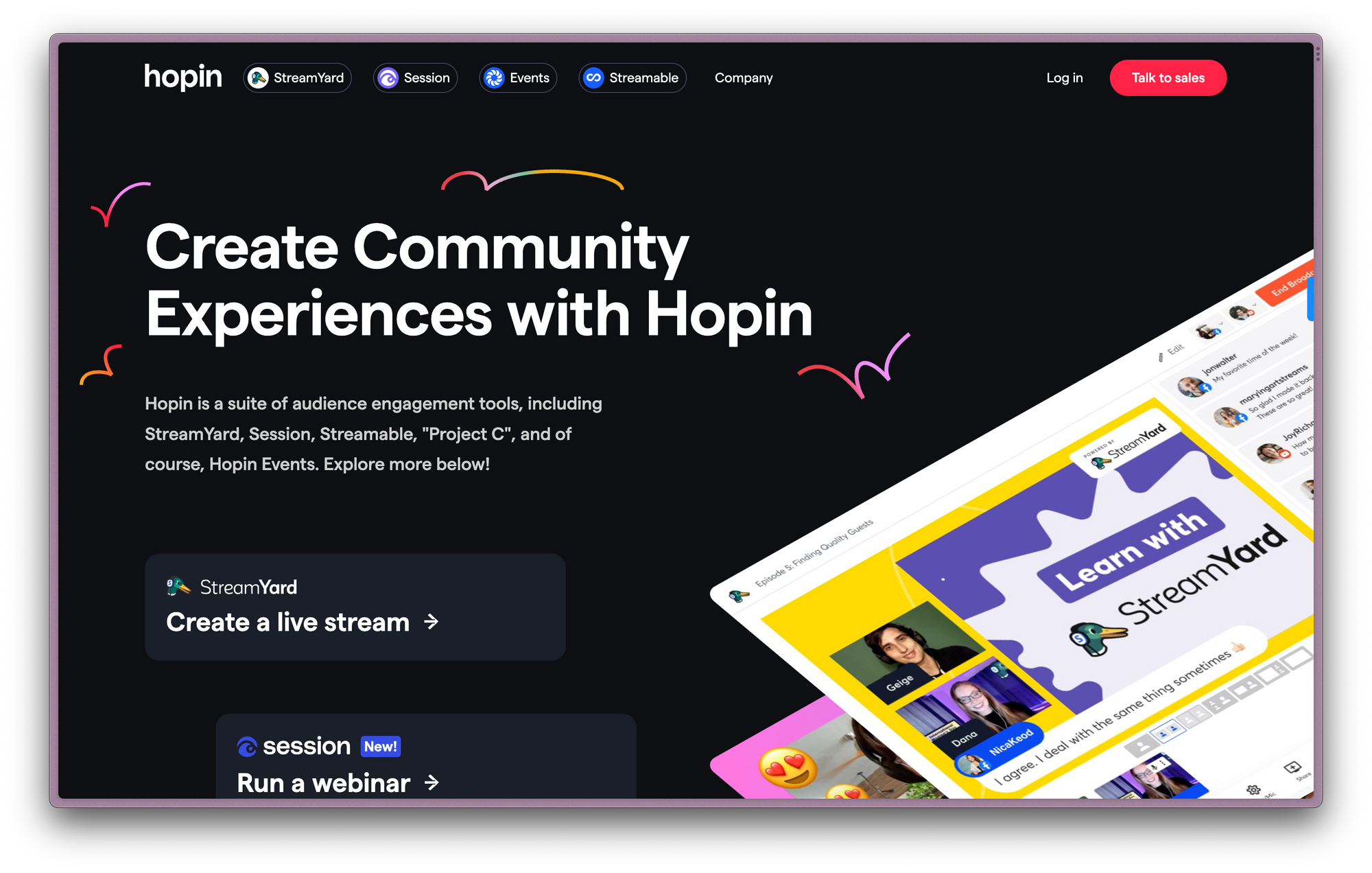 Review
Hopin is a WebinarJam alternative that lets you run high-quality virtual or in-person events and can also be used to host webinars. They offer different products for different kinds of video you might want to produce: Session, Streamyard, Streamable, and Events.
Hopin's different tools offer an array of features, with Sessions (dedicated to webinars) being the most recent of those and with a reduced functionality set. Their flagship product, Events, is also their best one. Hopin is a great choice if you are looking to run large-scale events.
Pros:
Event customization
Can host up to 100,000 attendees
Networking features like Event booths
AI/ML enhancement for sound and video
Cons:
Mobile app needed for Hopin Events
Only basic marketing and sales integrations
Complex backstage for events and webinars
Complexity due to multiple different Hopin tools
Conclusion
If you're looking to run events with 10,000+ attendees and have an experienced team that's ready to put on a show, Hopin Events can be the right choice for you. For smaller events, if you don't need to integrate the data into your marketing stack, Sessions can be the right choice for you.
8. ON24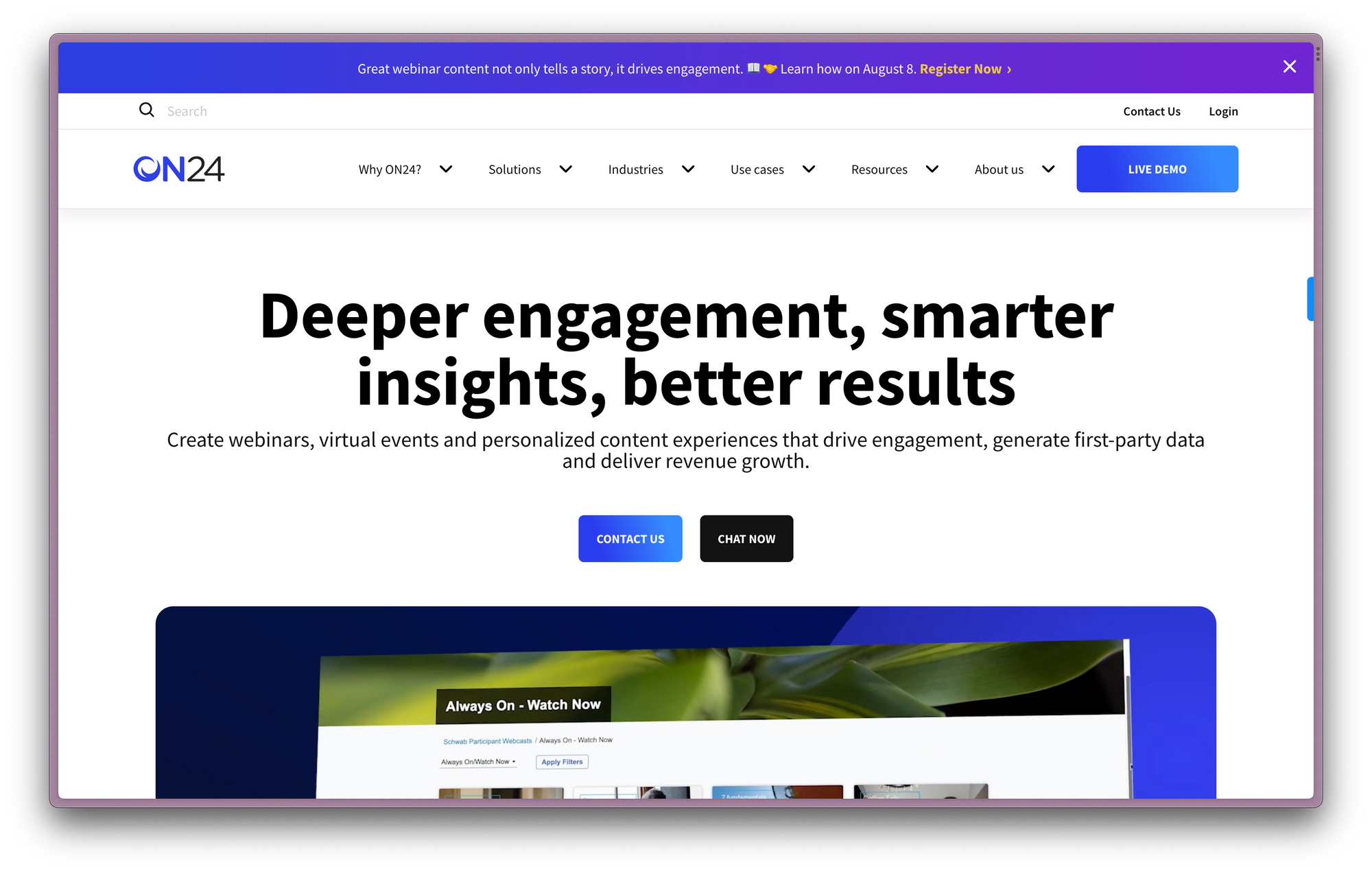 Review
ON24 is another WebinarJam competitor that is more focused on Sales and Marketing use cases, and is a strong to WebinarJam alternative on the webinar use case. They offer enterprise-grade security and have been SOC 2 Type II / SSAE18 audited.
They offer strong engagement features and analytics, and their customizable branding will make your webinars stand out from the crowd. Their UI can sometimes be a bit clunky and difficult to use, and some users have reported a steep learning curve to start running good events.
Pros:
Content hub for upcoming events and replays
Branded landing pages and emails
Detailed attendee analytics and ON24 first-party data
Engagement features: polls, and gamification
Cons:
Not for beginners: steep learning curve
Complex and difficult UI to run webinars
Issues integrating data into HubSpot or Salesforce
Hard for audience to interact with the content and participate
Conclusion
If you're looking for the platform with the most detailed analytics: ON24 might be the right choice for you. But if you're just getting started, need the data in your CRM, or don't have a large team to run webinars, then other alternatives might be more adapted to your needs.
9. BigMarker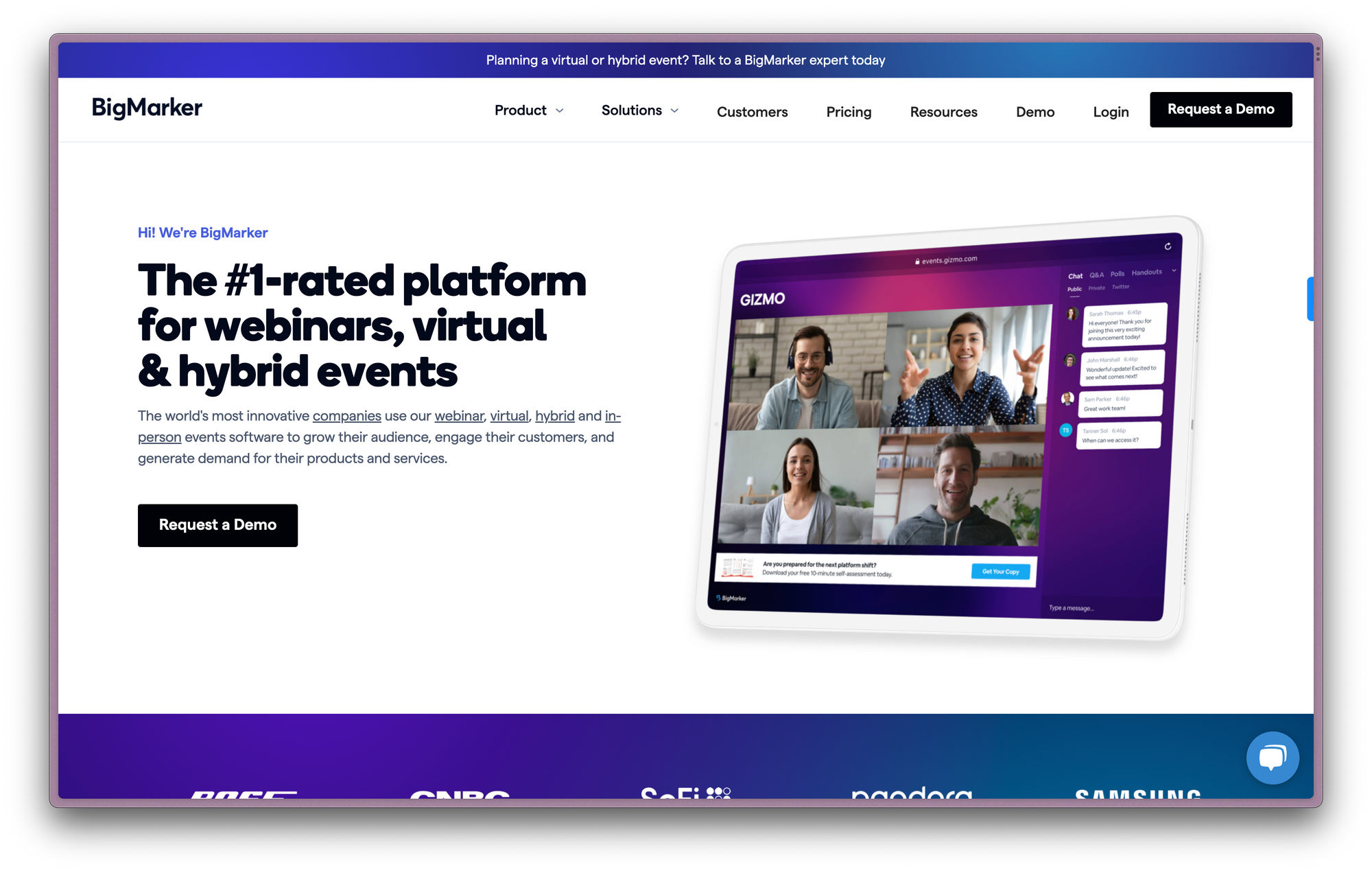 Review
BigMarker is one of the most modern WebinarJam alternatives that allow you to create a highly customizable webinar experience, but also virtual and hybrid events. Similarly to O24, it's designed primarily for sales and marketing teams.
They offer strong branding features for landing pages, good engagement features, and is an easy tool to set up. Their leads scoring features and attendee analytics - integrated to your CRM - make it a great tool for running lead-gen webinars. However, it's one of the more expensive tools in the list.
Pros:
Strong branding features
Gamification and lead scoring
Library of event landing pages
Cons:
Viewer experience is average
Few networking opportunities for viewers
Expensive tool compared to alternatives
Conclusion
BigMarker is a great WebinarJam alternative if you have the money to spend. They offer some of the best branding capabilities in this list and the tool is easy to use. However, from the viewer side it's not as modern as other tools in this list.
10. GoToWebinar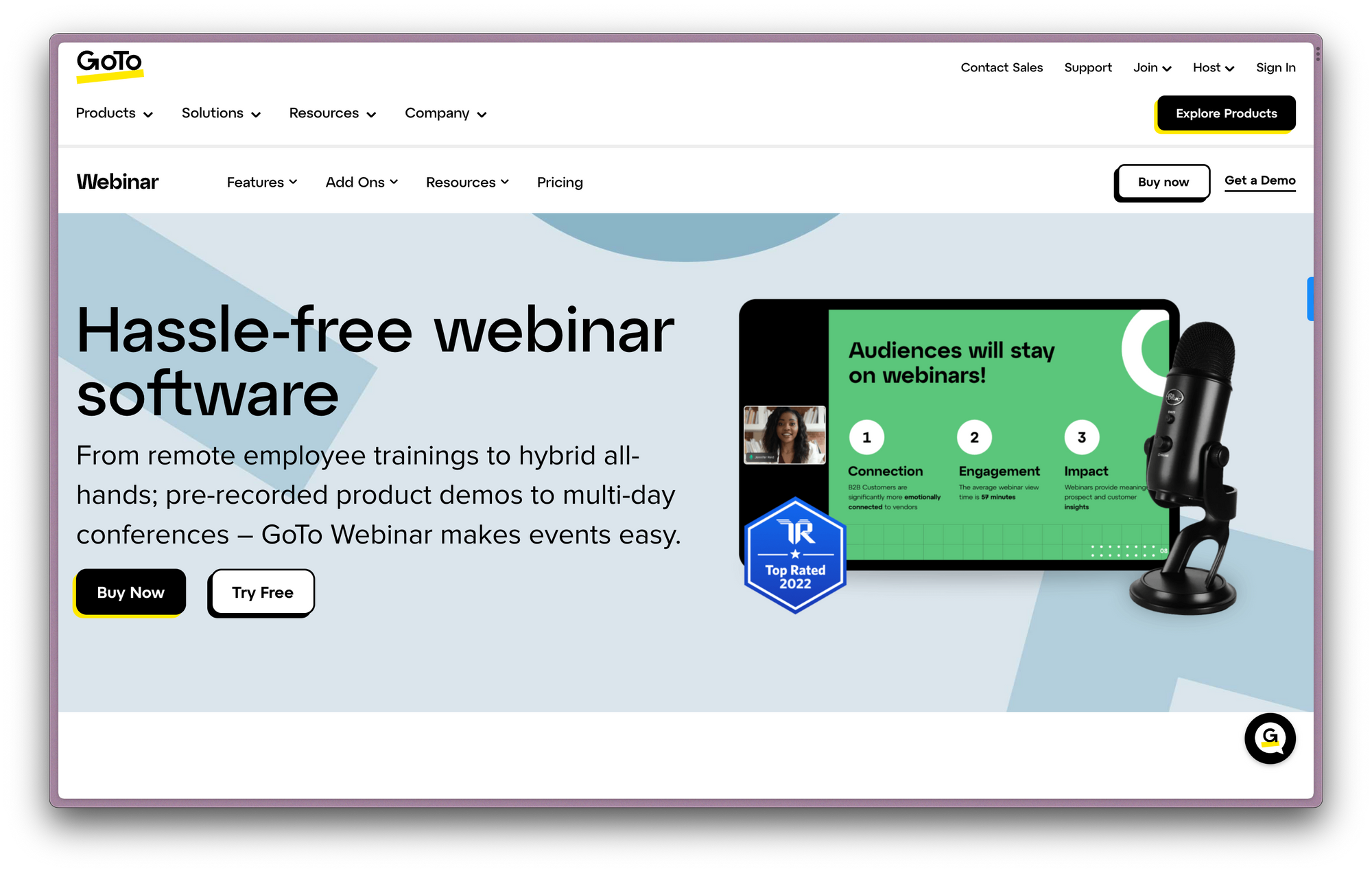 Review
GoToWebinar is a WebinarJam alternative from the GoTo suite (along with GoToMeetings and GoToTraning), and was one of the first players to make it to the webinar market. They focus primarily on marketing and training/enablement use cases and have a basic set of functionalities.
They offer a cheap and easy-to-use platform for marketing and hosting webinars. You can create basic landing pages quickly and it has some interactivity features like Q&A and polls. However, GoToWebinar does not offer any advanced features like other tools mentioned in this list.
Pros:
Recognizable name in the webinar industry
Basic engagement features like Chat, Polls, Q&A
Affordable pricing for small audiences
Cons:
Limited customer success/support
Can only support up to 3000 attendees
Outdated interface that can be difficult to navigate
Conclusion
Even with all these drawbacks, GoToWebinar is a great basic communication tool. If you're looking for a WebinarJam alternative that is simple, has a low price, and has basic engagement features, GoToWebinar could be the tool for you.
The best WebinarJam alternative for you
WebinarJam is one of the cheapest all-in-one platform to help you run webinars on the market. However, the lack of CRM integrations (Pipedrive, HubSpot, Salesforce), the low video quality and lack of flexible pricing plans may not be ideal for every business.
If you're interested in creating the best experience for your viewer, you should start looking for WebinarJam alternatives that offer a more YouTube or Netflix-like experience like Contrast, of it you have a higher budget, tools like BigMarker, or ON24.
If you still haven't made up your mind, why not take advantage of the free plans and trials to test your new tool? You can easily try Contrast by signing up to a free account to test the core features before committing.