How to Build the Perfect Webinar Invitation Email (Plus 20 Great Examples and Templates)
Are you struggling to get enough people to sign up for your webinars? Rethinking your webinar invitation email should be your first step.
Despite being one of the oldest channels in digital marketing, email still dominates in the world of webinars. In 2023, most webinar signups still come from email marketing.
Does your webinar invitation email contain the right info? Is it eye-catching but easy to read? Is it engaging?
In this article, we cover everything you need to know about creating a perfect webinar invitation email. We will also give best practices, real-life examples, templates, and more.
Ready to craft a killer webinar invitation email?!
Importance of Creating a Good Webinar Invitation Email
For most webinars, the measure of success comes down to one metric: registrations. Creating a perfect webinar invitation email is one of the best things you can do to increase registrations. It can also boost awareness, as people are more likely to forward a good invitation email.
It's all about giving a good impression and motivating your audience to not miss the event.
Webinar Invitation Email Best Practices with Examples
At Contrast, we've built a robust platform for hosting webinars (which you can try for free). By working with hundreds of customers, we've learned a few things about what makes a great webinar invitation email. We've shared examples below for how you can make yours stand out.
You probably shouldn't try to include all of these ideas in a single email, because that would get too long. Keep each of these tips in mind though and deploy a mix of them in your invites.
1. Create an eye-catching subject line
We all know that the subject line is the first thing people see in their inbox. Creating an attractive subject line is vital to persuading the recipient to open the email. An attractive subject line will contain simple words and perhaps even emojis that spark curiosity.
Here's a simple framework for writing a good subject line:
Make It Clear
Your subject line should tell people what the webinar is about. It should be easy to understand.
Example: "Learn Digital Marketing in Our Webinar!"
Make It Exciting:
Use words that make people want to join now. Words like "last chance" or "special" can help.
Example: "Hurry! Join Our SEO Webinar Now!"
Use Their Name:
If you know the person's name, you can use it in the subject line.
Example: "Sarah, Join Our Webinar on Content!"
Keep It Short:
Most people check emails on their phones. So, keep your subject line short.
Example: "Join Us Tomorrow for Data Tips!"
Example webinar invitation subject lines
2. Include a personalized message
Personalization helps you stand out among the ton of emails people get daily. This helps with trust and makes readers feel valuable.
This example from SaaS Connect shows some great personalization. They remind the person how they know them and even include the name of the last webinar that they registered for.
People are busy and they don't often remember your business or why they're on your email list. Giving them a bit of context helps reacquaint them with your brand.
3. Design an attractive banner
Visual appeal matters. Incorporate an eye-catching banner or header graphic that aligns with your webinar's theme. Ensure that the design is clean, professional, and relevant.
(Source: Contrast customer Vainu)
4. Include clear CTA buttons
Your Call to Action (CTA) buttons should grab the attention and communicate the desired action. Use action-oriented phrases like "Register Now," "Reserve Your Seat," or "Join the Webinar" to improve conversion rates.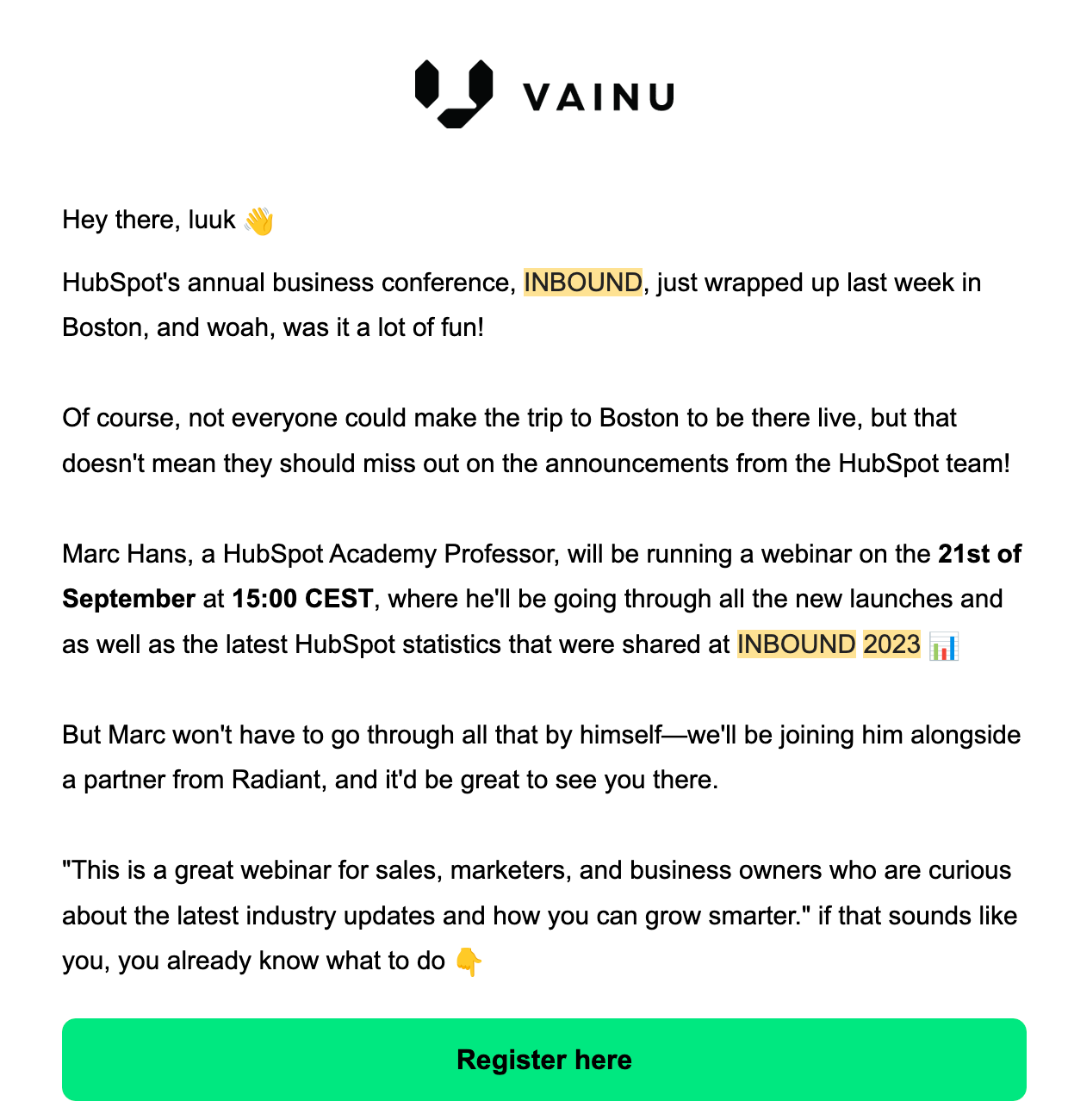 (Source: Contrast customer Vainu)
5. Outline a detailed agenda for the webinar
Giving a detailed outline of the agenda helps the audience know what to expect. By sharing these details, they can see if the event will be valuable to them. Give a small introduction about the speakers and the key points that will be discussed in the webinar. By doing so, the audience won't feel like their time is wasted on a dull or mysterious event.
(Source: APIDM)
6. Add countdown timers
Countdown timers show how much time is left until the webinar begins. Adding timers not only creates a sense of urgency but also serves as a powerful reminder to the recipients. This can encourage quick registration.
(Source: Pinpointe)
7. Encourage questions in advance
For seasoned webinar organizers, inviting questions in advance fosters deeper engagement. Your audience gets to shape the content and feel like active participants even before the event begins.
(Source: Headspace)
8. Add links to the calendar
Every minute is precious. So it's good to make it easy for your audience to save the date by including calendar links. It's a small gesture that can pay off when it comes to attendance rate.
In this example, Monday.com took it one step further and added multiple time slots that people could register for. This is a great idea for repeatable webinars like product demos.
(Source: Monday.com)
9. Mobile optimization
This should be obvious by now, but make sure your email content and the registration process are optimized for mobile. As mentioned, many people check their email on the go. They should be able to easily read your invite email and register from their phone.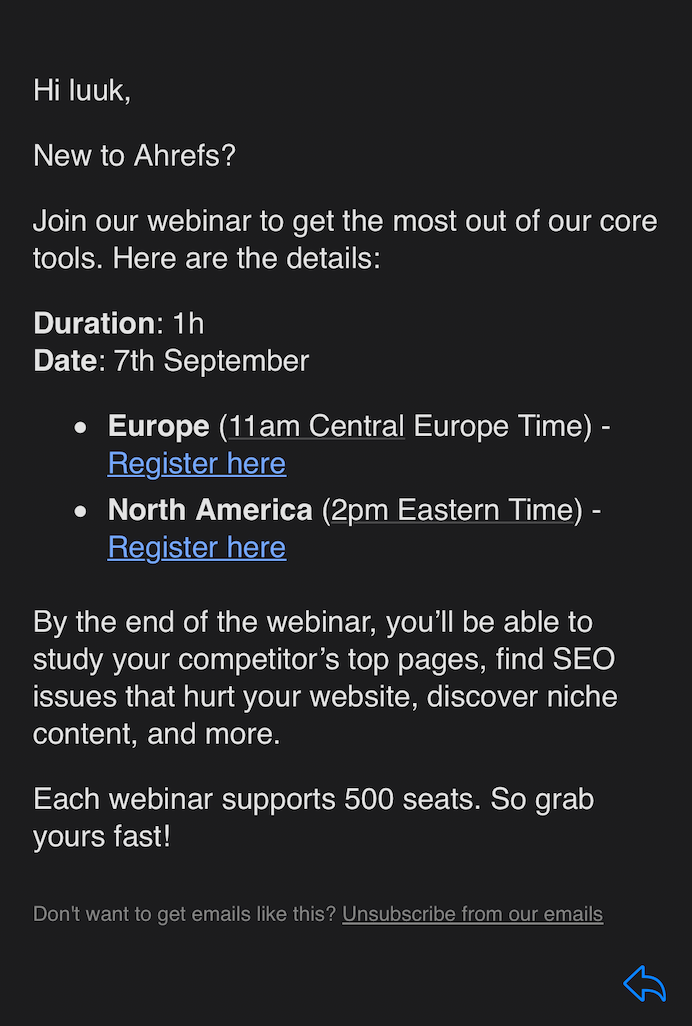 (Source: Contrast customer Ahrefs)
10. Make it easy to read
Avoid having your email neglected due to lengthy and dull content. Use bullet points, concise subheadings, and formatting to engage your audience and keep their interest.
This webinar invitation email from Stripe is a great example of an easy-to-read invite.
(Source: Stripe)
11. Add reviews and testimonials
Including reviews and testimonials in webinar invitation emails can enhance your invitation's effectiveness. This trust-building element is invaluable in an invitation email.
(Source: Skill Share)
12. Social media integration
We all know how powerful social media can be for increasing awareness. Don't forget to add those social sharing buttons in your email. Make it easy for your audience to spread the word.
(Source: LiveFront)
13. Add the sender's contact details
No one likes receiving a stale email from a corporation. It looks better coming from a real person at your company. You should also make it easy for your audience to reply by including the sender's contact details or a direct reply option. They should feel like there's a real person on the other end of the invitation.
Here's a good example of this from Nicole at Nautical Commerce.
(Source: Nautical Commerce)
14. Add interactive elements
Enhance your emails with interactive elements like videos, polls, and surveys. Here's a good example from Airbnb.
(Source: Airbnb)
15. Share speaker bios:
Providing a brief bio for each speaker will help to highlight their expertise and why they're worth listening to. It's like giving your audience a sneak peek backstage, making them feel more connected and excited about the webinar.
Here is an excellent example from Iterable.
16. Exclusive Early Access Content
Offer a teaser or exclusive content related to the webinar topic that's accessible only to those who open the invitation email. This could be a brief video snippet, an infographic, or a downloadable resource. This kind of content gives recipients a taste of what to expect from the full webinar.
(Source: WordStream)
17. Offer an early bird discount
If you're hosting a paid webinar, then offering an early-bird discount could help. It drives urgency in buyers. You can also highlight if there are a limited number of discounts or webinar spots available.
This example is from an in-person event, but the hosts took a unique approach to discounts. To increase awareness, they offered it to those who shared the event with 3 friends.
(Source: Onbrand)
18. Harness the power of webinar teasers
Remember those teasers before a big movie release? Well, they work for webinars too. Send out little sneak peeks before your main invitation. It builds excitement and leaves your audience wanting more.
(Source: Wistia)
19. Highlight attendee benefits
Make sure to highlight the tangible benefits attendees will gain from your webinar, such as knowledge, skills, connections, or exclusive resources. This helps attendees decide if the investment is worth their time.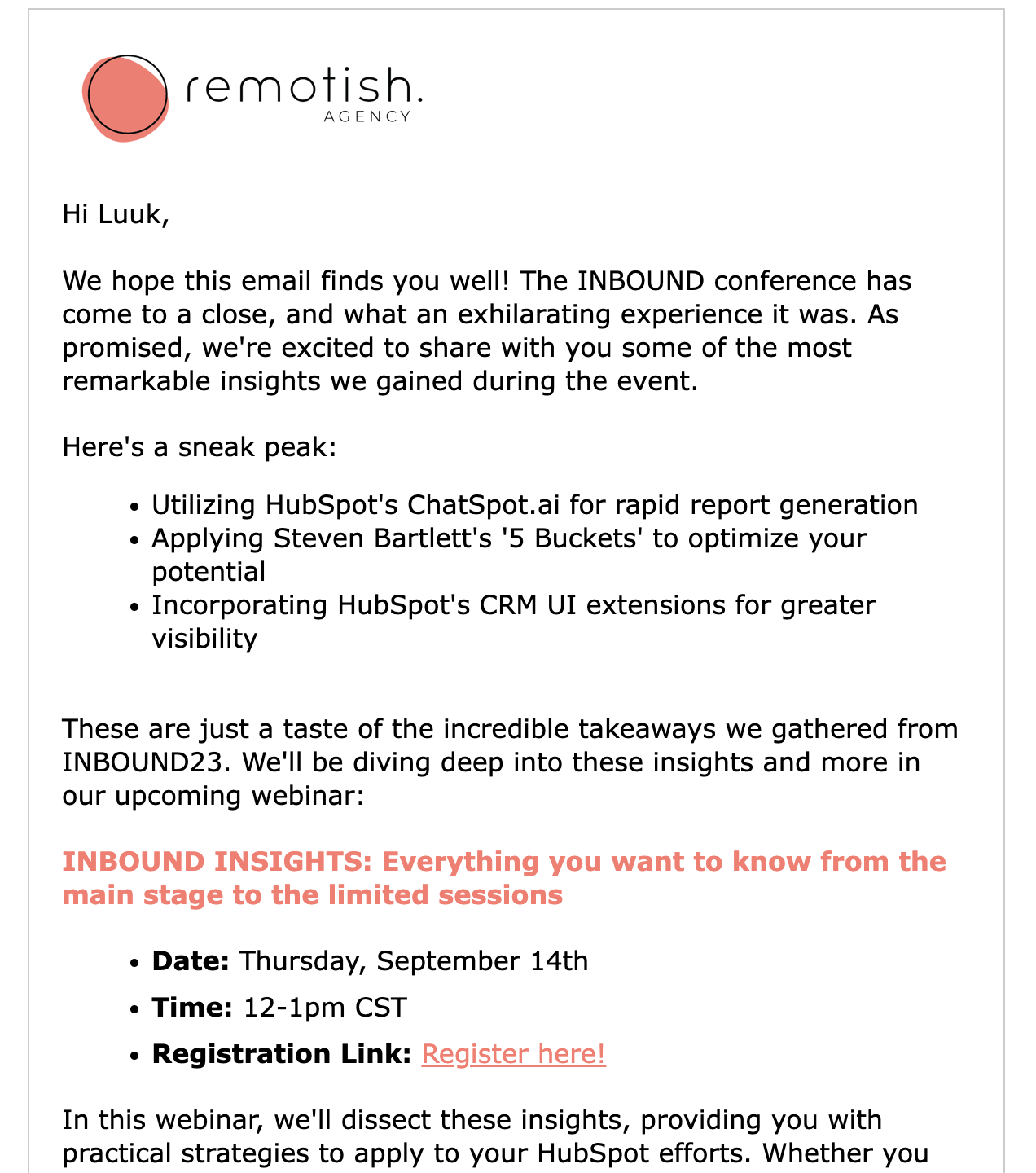 (Source: Contrast customer Remotish)
20. Request Feedback
Continuous improvement is crucial in webinars. Requesting feedback from previous webinars can help with future planning. You might not always want to include a request for feedback in an invitation email, especially if it's going out to your entire email list. But if you segment your email list by people who attended the last webinar. You can include a request for feedback on the last webinar alongside the invite.
(Source: Hive.co)
Webinar Email Sequences
Creating a perfect webinar invitation is essential but it is not enough. Using an email sequence is crucial to get the most amount of registrations.
A webinar email sequence is a series of strategically timed emails. These are designed to guide your audience through the entire webinar process. Starting from registration to post-webinar follow-up.
Here's how you can build it in five steps:
1) Build an attractive webinar invitation email
Crafting an engaging webinar invitation email is the first crucial step. This email should spark recipients' interest and compel them to register for your webinar.
Contrast's webinar platform lets you customize the emails in your sequence:
2) Send a follow-up email to those who didn't register
For those who showed interest but didn't register for the webinar, a follow-up email can be a valuable touchpoint. This email should aim to rekindle their interest and address any potential concerns or objections they might have had.
Key points to note:
Express your understanding of their initial hesitation.
Emphasize the value and benefits of attending the webinar.
Address common objections or concerns and provide reassurance.
Include a clear and compelling call-to-action (CTA) to encourage registration.
Mention any limited-time offers or incentives, if applicable, to create a sense of urgency.
3) Send a registration confirmation email
When someone registers for your webinar, their journey starts with a confirmation email. This email serves as a confirmation of their successful registration and sets the tone for the upcoming event.
Key points to note:
Express your excitement about their registration.
Offer a point of contact for questions or concerns.
Include an "Add to Calendar" button or link to help them remember the event.
Provide information on how they can access the webinar, including the link or login instructions.
4) Schedule webinar reminder emails
To ensure a high attendance rate, you should send a series of reminder emails leading up to the webinar. These reminders keep your event top of mind and encourage registrants to prioritize attendance.
Key points to note:
You can include a countdown timer to build anticipation.
Highlight key topics or speakers to remind them of the value they'll gain.
Encourage them to add the event to their calendar or set a reminder.
5) Thank You emails with event recordings and resources
These kinds of emails are suitable for all the attendees and non-attendees of the webinar. This can be used to express gratitude for their registration and provide post-event resources.
Key points to note:
Express your appreciation for their participation.
Share a link to the recorded webinar for those who couldn't attend live
Attach or link to the webinar slides or any additional resources.
Encourage attendees to provide feedback or ask for testimonials.
Webinar Invitation Email Templates
Here are some of the ready-made templates that you can use.
1. General invitation template