Looking for the best free webinar software? We've got you covered.
Free webinar platforms are great for businesses. You can host online sessions and pay nothing. Think of it as a test run. You can see if webinars are a good marketing channel without having to make a large investment.
You can also see if the platform is easy to use and if it works with your current tools. This means less risk when thinking about buying one. In this article, we'll explore the five best free webinar software. We'll cover their popular features and list their pros and cons.
Let's dive in!
Contrast:The Best Free Webinar Software
Yup, that's us. We built Contrast around one idea: engagement. The entire idea of the platform is to make webinars more engaging. We also offer all the basic features that you will ever need from a webinar platform.
On top of that, our free plan also includes a webinar studio to edit and share clips. The platform is easy to use, so your team will learn it fast. Speaking of collaboration, we offer unlimited user seats, allowing your entire team to work together.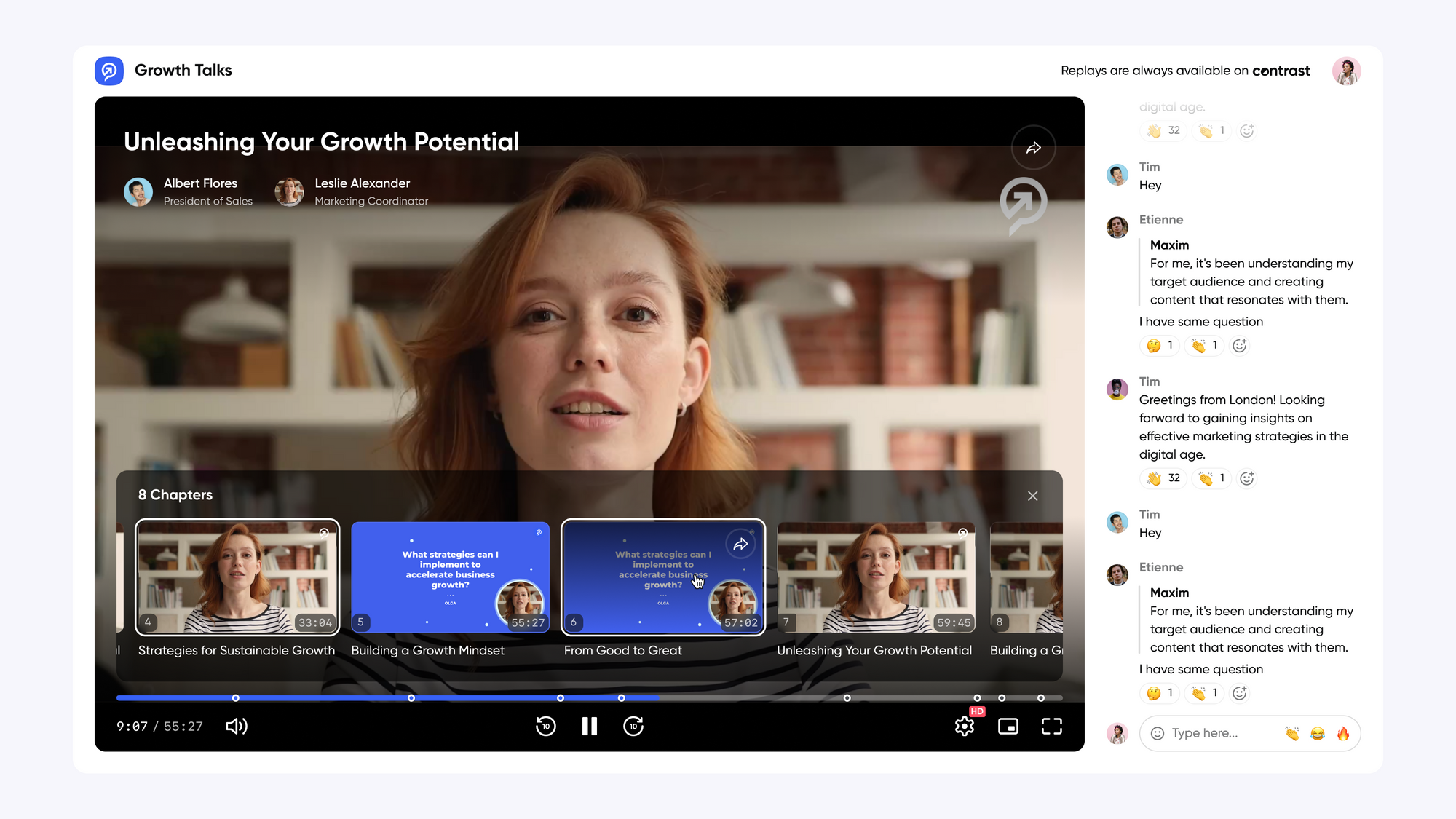 We also wanted to be unique by offering the most important features on our free plan:
Easy Setup
Set up powerful virtual events with just two clicks. It's an efficient experience for both hosts and attendees.
Engagement Tools
Promote audience engagement with dynamic Q&A sessions and interactive polls, all powered by a modern chat interface.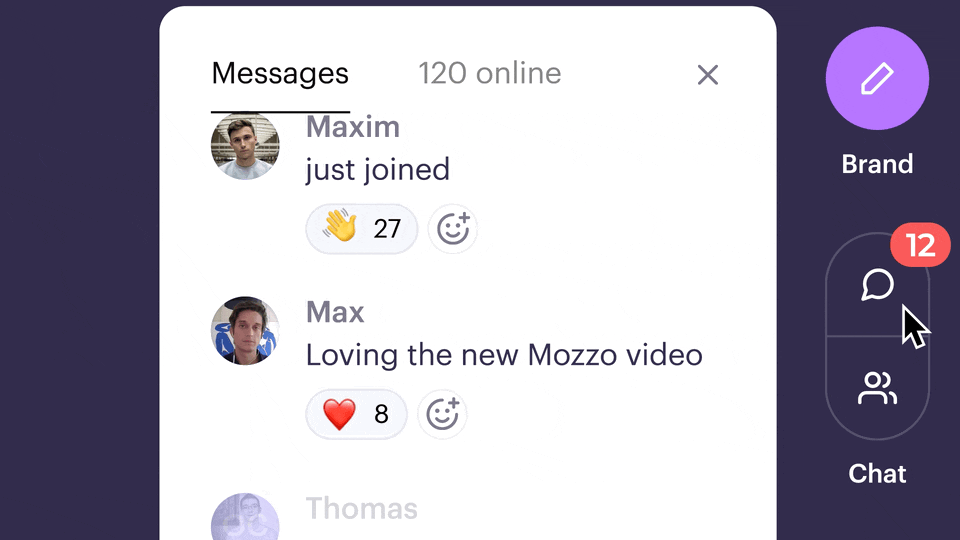 Customization
Contrast lets you customize everything. Registration pages, automated reminder emails, branding and on-screen layouts. We also offer a free video editor so that you can edit clips of webinars, customize them, and share across social media.
Analytics and Insights
Our free webinar analytics shows you exactly how people are engaging with your webinars. Dive into specific moments and get a better understanding of what works and what doesn't.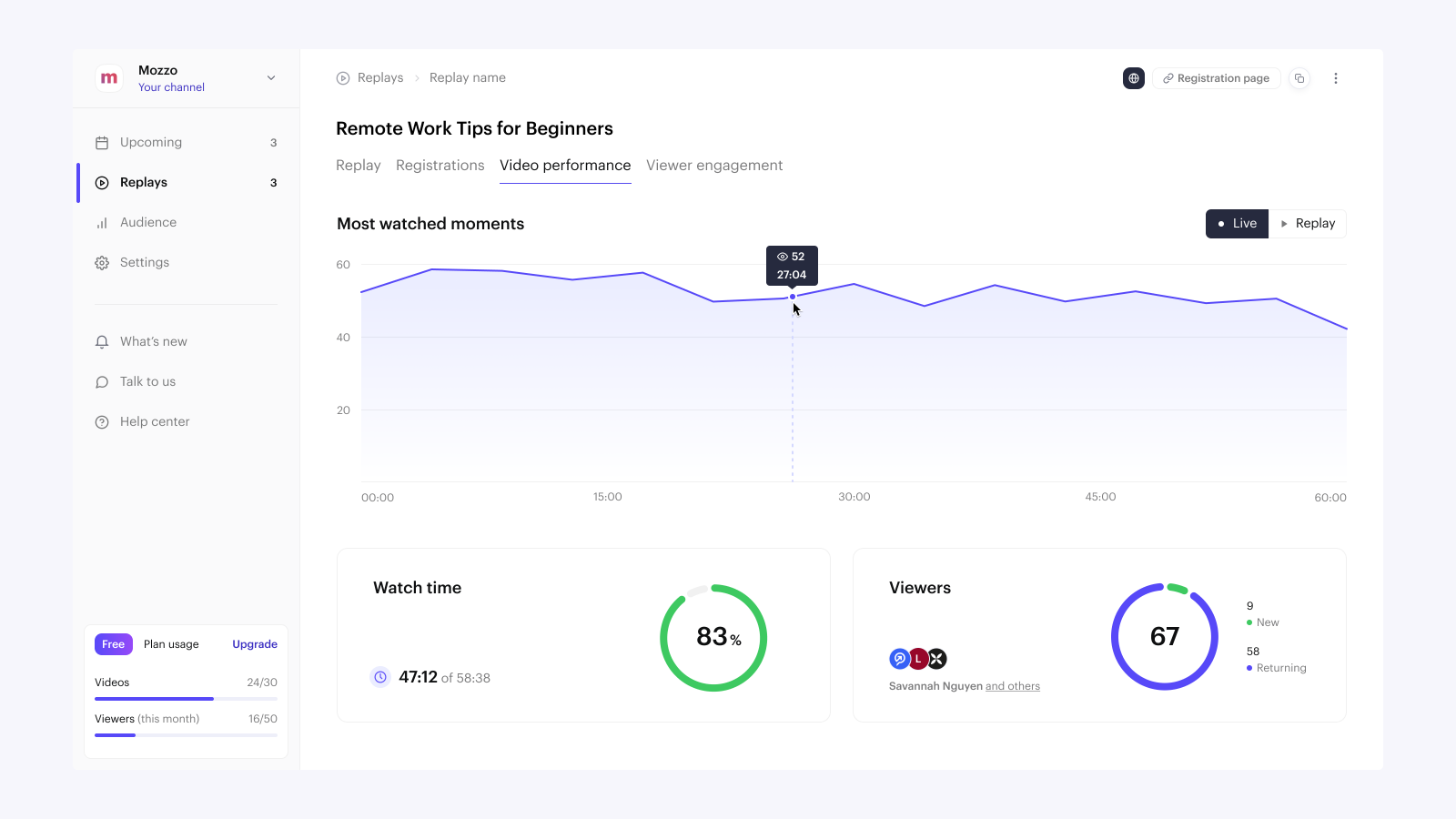 Here's a full list of all of our free features:
| Feature | Free Plan |
| --- | --- |
| Unique attendees | Up to 50 per month |
| Number of seats | Unlimited |
| Number of stored videos | Up to 10 |
| Invite external speakers | Unlimited |
| Studio with backstage, layouts, etc. | ✅ |
| Every engagement feature | ✅ |
| Fully branded experience | ✅ |
| Webinar channel | ✅ |
| Clipping and repurposing tools | ✅ |
| Branded Embeds | ✅ |
| Analytics | ✅ |
| Customer Support Rep | ✅ |
All of these free features make Contrast a great choice for a free webinar platform. If you're looking to create memorable and interactive online events, then you can create a free account now.
Leading startups like Vainu, Pennylane, and Getaround all trust Contrast to host their webinars. Here's what they had to say:
💡
"Contrast brings a new vision of live video broadcasting. A vision that combines simplicity, beauty of content and performance management. I've been waiting for such a solution for years."

- Maxime Baumard • CMO at Pennylane
💡
"Contrast changed how we run webinars. Because it's easy we can focus on creating more engaging webinars. The analytics are very detailed."

- Alexandra Charikova • Owner Growth at Getaround
Other Top Free Webinar Platforms

Zoho Webinar
Zoho Webinar is a powerful online meeting and webinar tool provided by Zoho, a well known company for business software solutions. With Zoho Webinar, you can effortlessly host virtual meetings, webinars, and collaborative sessions.
Pros:
Easy to use: Zoho Webinar is pretty user-friendly. It won't have you scratching your head trying to figure things out.
Works well with Other Tools: Zoho Webinar works especially well with other Zoho apps and also integrates outside of its ecosystem.
Useful features: It's got a bunch of features you'd expect, like screen sharing, chat, webinar recording, and polls.
Cons:
Limited duration: The free plan has a limited duration of 30 minutes per session.This can be a drawback for users who need to host longer webinars.
Limited features : The chat and messaging option is unavailable during a webinar; there's no cloud recording of videos; webinar recordings and email customizations are also absent.
Limited branding options: The branding option is only available in the paid plans, so it will be difficult to build trust and authority using the free plan.
Limitations on Co-organizers: The free plan doesn't allow multiple co-organizers and it is only available in the paid plan.
LiveWebinar:
LiveWebinar is a flexible webinar software that lets you host online webinars and events. It's a great simple solution for connecting with audiences, screen sharing, and interacting with your audience through chat and other features.
Pros:
User-friendly Interface: LiveWebinar is known for its easy-to-use interface, making it accessible for both hosts and participants.
Interactive features: It offers a wide range of interactive features like polls, Q&A, chat, and screen sharing to engage with your audience effectively.
Broadcasting options: LiveWebinar allows users to broadcast events, webinars, and training sessions on Facebook, YouTube, Vimeo, Periscope, external media sources, and other social media platforms.
Cons:
Very limited attendees and session time: You can only have 5 attendees and a 45 minutes session duration.
No recording: The free plan does not provide any recording features to record the webinars.
Cost: While LiveWebinar offers a free plan, most of its advanced features may come at a steep cost, which might be prohibitive for some users or small businesses.
Lack of customization: There is no branding options,virtual backgrounds or page templates included in the free plan.
Livestorm:
Livestorm is a good webinar platform that allows users to create and manage webinars, video conferencing and virtual events. It is a browser-based webinar software that provides a good user experience, whether you're a beginner or an experienced user.
Pros:
Browser based events: Hosting webinars directly in a web browser while eliminating the need for downloads or installations and simplifying the process for both hosts and attendees.
Automatic recording and unlimited replays: Lets you capture your webinar sessions for future use, and unlimited replays helps you share your content with a wider audience over time.
Engagement features (Chat, Questions, and Polls): This fosters audience participation and makes your webinars more dynamic and informative.
Cons:
Participant limits: Free plan allows only 30 registrants and 10 live attendees
Event duration : Total event length is maximum 20 minutes
Email invitation: You cannot send email invites on free plan
Limited exports : Livestorm doesn't have a feature for bulk data export. Exports for each webinar should be done individually.
Facebook Live
Facebook Live is a commonly used live streaming platform. It can be a valuable tool for certain types of live streaming events, particularly for individuals, freelancers, and businesses to connect with their audience in real-time.
Pros:
Free live streaming: It allows users to broadcast live events for free, making it accessible to a wide range of content creators and organizations.
Informal communication: It's well-suited for informal and interactive communication with a broad audience. It's often used for things like product demonstrations, Q&A sessions, behind-the-scenes glimpses, and other real-time interactions.
Audience reach and engagement: Automatic posting of recordings allows followers to easily share and engage with the content. It allows you to interact with the stream through comments and reactions in real-time, fostering engagement.
Cons:
Functional limitation: Traditional webinar features like screen sharing and multiple speakers on stage are not available.
Inability to capture leads: Limited built in features to capture leads without the use of third party tools.
Limited analytics: Facebook Live does not provide as many analytics options as other live streaming platforms. This can make it difficult to measure the effectiveness of the content.
Privacy concerns: When you go live on Facebook, it's accessible to the public, which may not be suitable for all types of content. Privacy and security concerns can arise.
Choosing the Right Free Webinar Software for Your Business
Choosing the right webinar platform is a critical decision. Here are some key considerations to keep in mind when selecting a free webinar platform:
Audience Size/ Scalability:
Consider the size of your audience. Most platforms have limitations on the number of attendees in their free or lower-tier plans. Make sure the chosen platform can accommodate your expected audience size both now and as you grow in popularity.
Integration Capabilities:
Check the platform's integration capabilities. Integration with your existing tools and software, such as CRM systems, email marketing platforms, and analytics tools, can streamline your workflow. It will also help you manage and analyze all of the data generated from webinars.
Ease of Use:
Check how easy the platform is to use, both for hosts and attendees. A user-friendly interface simplifies the setup process and lowers the chances of technical difficulties.
Engagement:
Seek features that boost audience interaction, such as live chat, Q&A sessions, polls, and other interactive elements. An engaged audience is more likely to benefit from your webinar.
Why Contrast might be the best free webinar software for you
Contrast is a webinar platform for companies of all sizes. Both startups and big companies love it. Why? High level of customization and features built for engagement.
It's also one of the few free webinar platforms that actually includes almost all the best features in its free plan. As you can see in the table below, a lot of webinar platforms limit the features in their free plan.
| Features | Contrast | Zoho Webinar | LiveWebinar | Livestorm | Facebook Live |
| --- | --- | --- | --- | --- | --- |
| Up to 50 free viewers | ✅ | ✅ | ❌ | ❌ | ✅ |
| Up to 10 stored videos | ✅ | ❌ | ❌ | ❌ | ✅ |
| Human customer support | ✅ | ❌ | ✅ | ✅ | ❌ |
| Advanced video analytics | ✅ | ❌ | ❌ | ✅ | ❌ |
| Clipping and repurposing tools | ✅ | ❌ | ❌ | ❌ | ❌ |
Conclusion
Choosing the right free webinar software matters. It decides how well your online events go. You want a platform that lets you engage with your audience. You also want your webinars to be fun, clear, and helpful.
With Contrast, you get tools to make your online events shine. It's about highlighting your brand without immediately committing to a paid plan. You can sign up for free and start right away.
FAQ
Does Contrast offer a free plan for webinars?
Yes, there is a free plan available for Contrast. You can invite 50 people to your webinar on the free plan. There is a limit of four hours for your event. You can sign up and you don't need to give your credit card details.
What are the best features available on the free plan from Contrast?
Contrast gives access to all features on the free plan.
Who offers a better free plan, Contrast or Livestorm?
As we are Contrast, we're a little biased in this. But purely looking at what you get from the free plan, Contrast is the better option as you can host longer events with more registrants. If you want a more comprehensive comparison between Contrast and Livestorm we recommend you to read this.
How do I get started with setting up a webinar?
If you're just getting started with setting up your webinars, we recommend you to read our How to setup a webinar guide and checklist
What is the best time and day to host a webinar?
According to research Wednesdays or Thursdays are the best days to host your webinar. On these days, it's best to schedule your webinar between 11:00am and 14:00pm. You can learn more here about the best time and day to host a webinar
How do I create interaction during my webinar?
Start with understanding your audience and create content that reasonates with them. Use interaction features like Q&A, Polls and Engagement Widgets. You can find more top tips for creating interaction during your webinar here.